Developers' hourly pay in India vs other nations
With the recent technological advancements, businesses no longer need to limit themselves to borders whether it be learning, consumption or hiring. Instead, they can expand their horizons to amazing talents globally. This will not only reduce their operational cost but would also bring a diverse perspective to approach any given project. But before deciding on hiring offshore developers, knowing the true cost of hiring developers is the need of the hour. This article will guide through developer's hourly pay cost of developers in various countries like the US, UK, Germany, the Netherlands and India. It also gives an insight into how hiring from India would save organizations a fortune. There may be various factors that affect hourly rates. They include location and size of the company, soft skills and tech expertise of the developer, complexity and the time frame of the project. Now let's see how the above-mentioned countries differ in their developer hourly rates. The rates may differ based on the expertise and scope of work.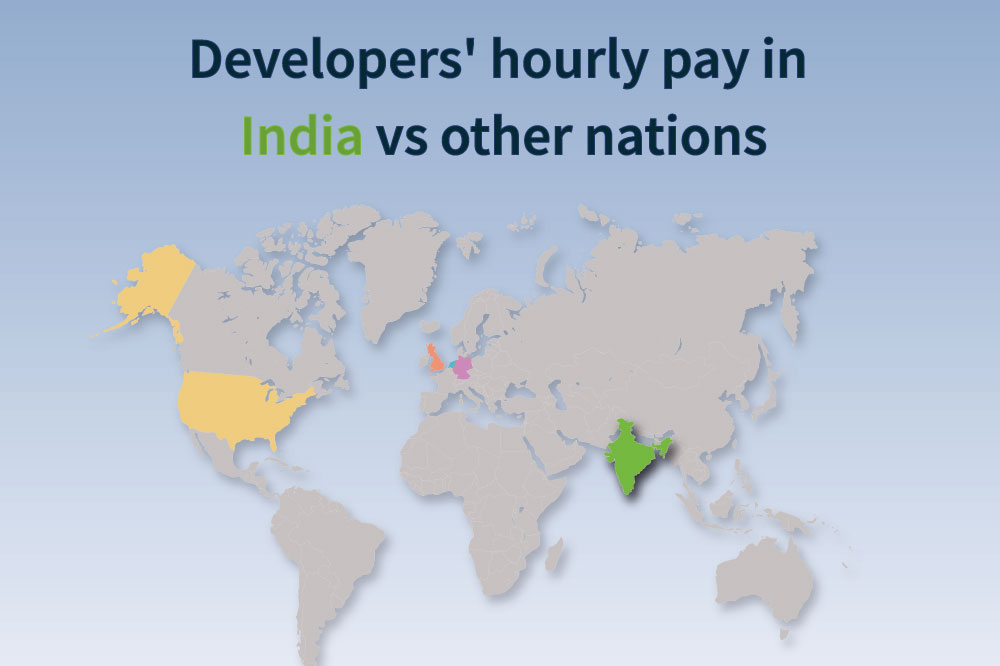 Developer's Hourly Pay Comparison in India with US, UK, Germany & Netherlands
1. The USA
Developers hourly pay in the States is the highest, ranging between $38 to $63. Although it is more expensive there are many reasons to hire US developers. The United States is home to the most dominant Tech Giants namely Alphabet (Google), Amazon, Apple, Meta (Facebook), and Microsoft. They account for 32% of the total techies globally. In the U.S. the tech sector supports other sectors to increase revenue and bring innovation. The total cost of a US developer ranges between $137k to $173k including taxes and other benefits. Taxes vary from state to state but on average it's 29.7%. Below is the developer hourly rate in the US, citywide.
CITY
HOURLY RATES
Junior software engineer
Mid-level developer
Senior coders
Tampa
$32-$39
$40- $47
$48-$59
Los Angeles
$44-$52
$56 – $67
upto $76
Alabama
$32-$39
$40-$46,5
$47-$57
Carson
$40-$50
$47-52
$54-$68
Dallas
$32- $39
$41-$48
$50-$62,5
Michigan
$27-$36
$38-$45
$47-$64
Milwaukee
$36 max
upto $47
upto $59
San Diego
$34-$38
$43-$59
upto $64
Portland
$32-$40
$42-$56
$57-$65
Chicago
$33-$41
$42-$54
$55-$66
Colorado
$32-$39
$52,5- $66
$42-$51,5
California
$35-$45
$48-$57
$59-$70
San Francisco
$39-$56
$57-$69
$66-$89
NYC
$36-$47
$48-$64
$65-$75
2. United Kingdom

Like the US, the hourly rate of developers is expensive for their skills and benefits. The UK is a world leader in producing tech unicorns – it's 3rd in the world, following the US and China. Digital tech grew 6 times faster than any other industry according to the Tech Nation Report 2020. The UK is home to 77 tech unicorns – companies valued at over $1bn. In Spite of the pandemic, the tech sector has demonstrated resilience through creating new opportunities and new investments. Three major IT hubs that provide opportunities to developers include London, Manchester, and Liverpool. According to sources like Neuvoo, Totaljobs, and Cwjobs, the developers' hourly pay in the above-mentioned regions are as follows:
CITY
HOURLY RATES
Junior software engineer
Mid-level developer
Senior coders
London
$24-$35
$36-$48
$49-$58
Manchester
$20-$24
$25-$37
$38-$47
Liverpool
$21-$25
$26-$37
$37-$54
3. Germany

Germany is one of the largest software markets in Europe for good reasons. With cutting-edge technology, the German IT industry's revenue grew steadily during the last decade, amounting to almost 95 billion euros in 2020. For 2021, the forecast thus far predicts 98.6 billion euros. Germany ranks second in having a large number of unicorn companies only after the United Kingdom. In Berlin, the developers' hourly pay is high salaries with a low cost of living. However, in Germany, the pay of a developer varies with the size of the company and the experience of the developer. According to Payscale and Glassdoor resources, an average developer salary per hour is:

CITY
HOURLY RATES
Junior software engineer
Mid-level developer
Senior coders
Berlin
$20-$29
$30-$38
$40-$52
Frankfurt
$19-$28
$29-$37
$34-$50
Munich
$21-$26
$27-$39
$36-$50
4. Netherlands
The Netherlands is considered Europe's favorite tech hot spot. A report states that the average salary of the developers raised rapidly from 2016 to 2020 ranges from €50k to €56k. Netherland has around 60% of the companies mentioned on the Forbes 2000 list including Cisco, Oracle, Google, Microsoft, IBM, Intel, Verizon, Huawei, and many other global players. Amsterdam has around 800 startups and is responsible for generating thousands of job opportunities accounting for 14 % of the local workforce. But in the Netherlands, the full-stack developer earns less than the average frontend or backend developer. The hourly salaries for Software developers in the Netherland city-wise are as follows:
CITY
HOURLY RATES
Junior software engineer
Mid-level developer
Senior coders
Amsterdam
$32-$39
$36-$46,5
$44-$57
Rotterdam
$33-$41
$43-$54
$50-$65
Utrecht
$34-$39
$43-$58
upto $64
Eindhoven
$32-$39
$40-$49
$46-$60
5. India
The IT industry contributed to 8% of India's GDP in 2020. A report from Nasscom states that India will achieve $300-350 billion in annual revenue by 2025. India is one of the best countries to hire offshore software developers. Wherever your business is if you want to build top-notch solutions at affordable rates with high tech skills, technological infrastructure, professionals and emerging engineers consider Indian developers.

As per A.T Kearney Global Service Location Index 2021, India is the top for the most attractive outsourcing destinations.
The IT market in India is on the rise and changing the face of the Indian economy. More than 2,00,000 IT graduates join the Indian workforce annually and it has the youngest employable population globally. 40% of professions advanced themselves according to the latest technologies to meet upgraded industry requirements. This makes India a desirable offshore destination for IT services. The developers' hourly pay in India is seemingly lower than their counterparts in other countries.
CITY
HOURLY RATES
Junior software engineer
Mid-level developer
Senior coders
Bangalore
$5-$7
$8-$13
Upto $20
Hyderabad
$4-$7
$6-$12
$9-$17
Kolkata
$3-$7
$6-$9
Upto $15
Final Thoughts
From the above comparisons, you might be aware of the developers' hourly pay. It is evident that Indian developers demand low salaries with high technical skills when compared to other countries. At Centizen Talent Hub, we help you find the top-notch developers in India based on your job position. We provide highly skilled and trained developers who are pre-screened and ready to work as soon as the recruitment is done. The onboarding process is completely taken care of and our consultant care team would take care of the talent while they are on the assignments in case they face any issues.