Although there are few options available for ChimneyCheck inspection, they still burned a hole in the pocket. In the pursue of making things available for everyone, an all inclusive platform for collecting on site data and making them available offline to work with and update periodically over internet.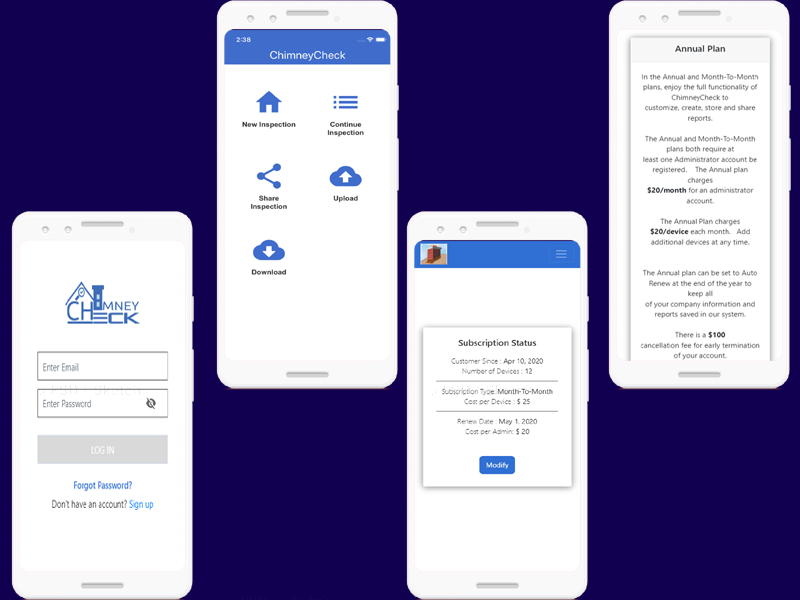 A leading chimney inspection company was interested in creating an application that would allow to enter and document their on site chimney inspection details and create reports and work with the data even offline across devices (iPhone or Android).
The challenge was to build an application that can record and maintain all the inspection details that are collected at the site using hand held devices and generate a customisable report for inspection. The collected details needed to be in sync both offline and online, hence when a user works on an offline copy and comes back online the newer version is updated to the storage.
Centizen, created an application that allows you to collect all field inspection details using handheld devices like phones or tablets and store them in a (SQLite) local storage for easy access and retrieval. The application provides a sync functionality to store true versions of data on the server and to be available in the local storage for application progress. The offline updates are uploaded to the server database once established online.
The system would allow capturing the chimney image during the inspection and would generate it as a report to get a digital signature from the client at the site and upload it to cloud storage.
Enhanced Data Access
The platform has access to a database that lets you work offline and can make changes effective once you are online cuts down on tracking your drafts.
Detailed Reports in short periods
Employees can complete their work and upload them to their server with reference images..