Strategies for establishing a High-Performing Remote Teams

The COVID-19 pandemic has pushed traditional office practices to remote teams overnight. Organizations are looking for new ways to adapt to this new remote workforce culture. To overcome the challenges faced by a team, communication and operation had to be redefined for better efficacy. Businesses had to look for new ways to build a high-performing remote team. But building an efficient remote team may be hard when they are diversely located across the globe from different time zones. Here are a few ways to put together an efficient team.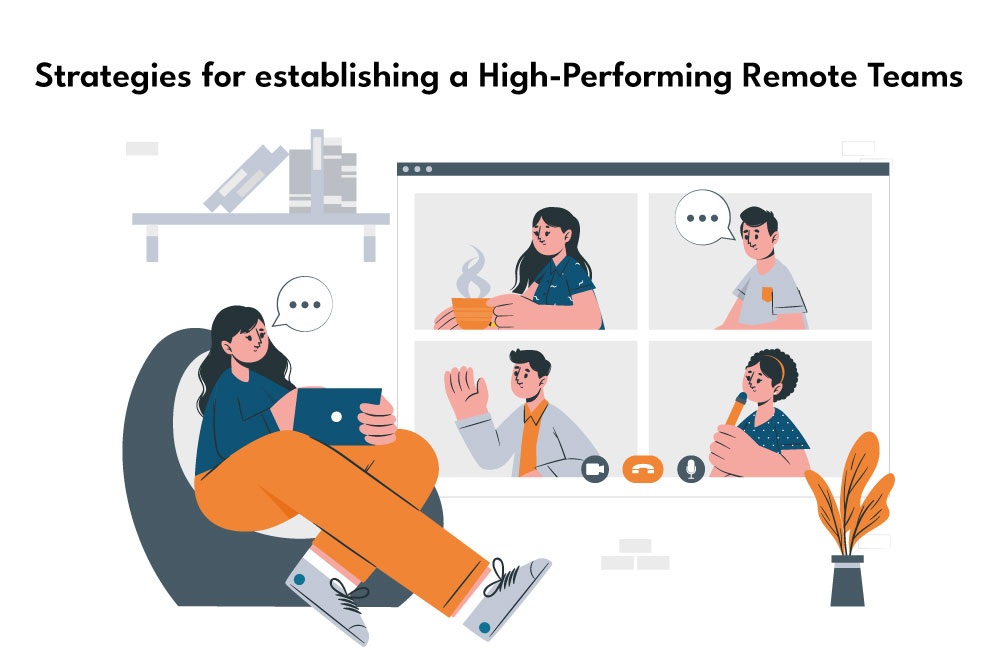 What should growing businesses focus on to form high-performing remote teams?
1. Recruiting the right workforce
Recruitment is the most important step in identifying a high-performer. Apart from the job-specific skills and experience, recruiters should look for people with soft skills that will impact a team's holistic performance. Candidates with strong work ethics and are confident about their skills have demonstrated to perform better.
Outsourcing the recruitment process to experts is a better idea to save time and money that is spent on screening processes. Centizen talent hub with over 5+ years experience interviews and evaluates the best talents from India. They help find candidates that are the best match for your company. Centizen makes it easier for you to bring on vetted talents ready to work independently. With our sourcing & hiring team, we help you find the right employee with suitable skills and culture.
2. Define your requirements clearly
Every team member should be aware of the overall goals of the business and how they can contribute to reaching that goal. When people work in a team, they grow less accountable for the success and growth of the company. The team members should understand their roles, individually and as a team, in helping your organization achieve its objectives. When team members know their responsibilities and are provided the necessary support to remove potential barriers, members can run without interference and outperform expectations.

3. Encourage team communication and bonding
When team members are from different locations, they have different understanding and have different perspectives where managers might struggle to create a sense of oneness among the team. To facilitate interpersonal connections, leverage technologies like Zoom, Microsoft Teams, to brainstorm with your team to create a virtual office experience. When team members understand your process, their roles & contributions, the team handles projects better. You will see high levels of self-development, as well as high retention rates.
4. Encourage expressing ideas & thoughts.
As per a popular newsletter, employees do have a lot to offer but they don't as they are unsure of how their leaders will respond if they do. Giving freedom to employees to express their ideas can help a great deal in the progress of your business. Let your employees know that you are always open to new ideas and their ideas matter. Asking for feedback during review meetings is a great idea to let employees share their views openly. When employees feel their views matter, they tend to be more involved in the progress of the company. This in turn increases their loyalty and helps them to become a high-yielding remote team.

5. Equip your team with cloud-based project management tools.
Online cloud-based project management tools are designed to provide a centralized place for communication and document sharing which results in high productivity for every team member without any financial costs. Each team member would be able to collaborate, share information, and access documents whenever and wherever they need to. These tools enable teams to become more mobile and remote. Some examples include Asana, Basecamp, Microsoft Project, Smartsheet etc.
6. Provide continuous learning opportunities to employees.
Learning is a never-ending process and a way to keep ourselves updated with the advancements of today's world. Continuous learning helps your employees who are willing to learn to grow their skill sets and become high-yielding performers in their jobs. So the employees must be provided with the opportunity to make learning a part of their work. Setting learning goals and swaying employees to achieve them in the desired time frame would make the process more efficient. Good learning programs will help them fulfill their potential and make them more inclined towards the organization.

7. Continuous Monitoring of employee performance.
When employees are out of sight it becomes difficult for employers to track the progress of work. It is hard work to measure employee performance remotely. So employees can be assessed using metrics, KPIs(Key Performance Indicators), and internal tools.
Regular performance reviews allow you to let workers know where they stand. The assessment also helps employers to identify underperformers and give additional training to improve their performance. They can also structure incentive payments such as bonuses to employees who perform well. This also helps build a high-performing remote team.
Final Thoughts
It may take a lot of effort to connect remote employees to the company effectively. It starts with hiring the right workforce, making the employees realize their responsibilities, providing them with proper tools and learning opportunities and encouraging them to express themselves freely and bond with each other. This may help build a high-performing remote team.