Elevate Your Shipping Experience with ZenBasket: Avoid Hidden Shipping Costs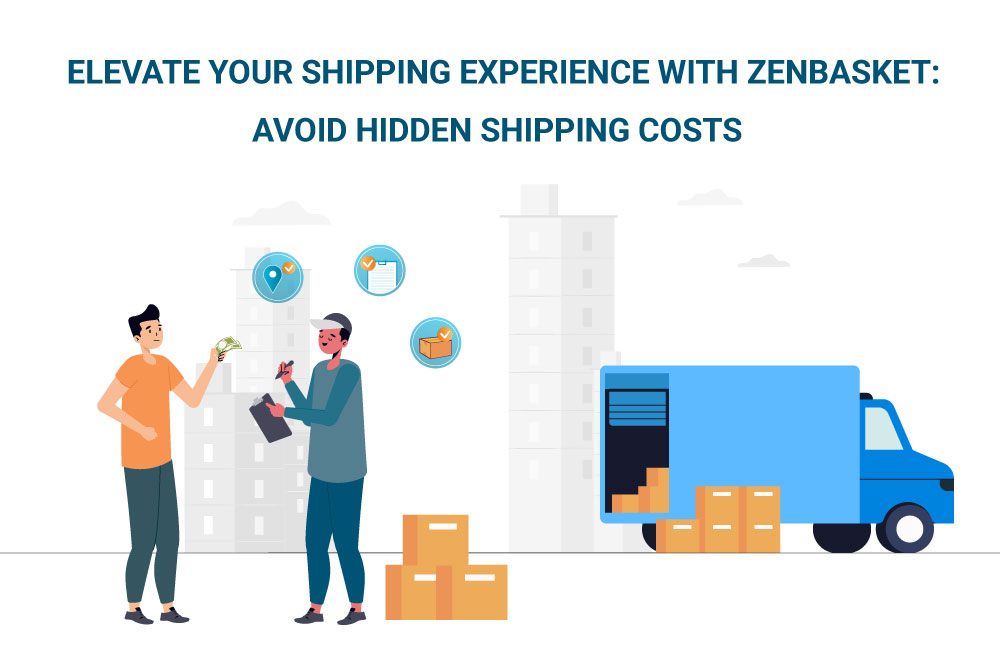 The shipping costs that customers pay when they purchase something online include all the expenses associated with packaging an order and transporting it from your business to the customer's doorstep. This includes fuel surcharges and any other costs that may vary depending on the distance the package needs to travel to reach its final destination.
When you begin an Ecommerce business, you'll encounter numerous costs, and one of the most significant expenses is shipping. Unfortunately, shipping expenses can fluctuate depending on various factors such as the weight and size of the product or packaging, fuel charges, and the distance it needs to travel.
As the Ecommerce industry continues to grow, customer expectations have also continued to evolve. Customers now desire shipping and delivery processes that are speedy, secure, and transparent. Therefore, it becomes crucial for businesses to adopt a shipping strategy that meets these expectations effectively.
How hidden shipping costs affect Ecommerce businesses
Hidden shipping fees, complex surcharges, and difficulty in comparing options lead to cart abandonment, reduced satisfaction, and decreased loyalty. Customers feel deceived and frustrated, resulting in fewer conversions. Having to compare shipping options is difficult, and can cause dissatisfaction. Lack of transparency erodes trust and leads customers to seek other alternatives.
ZenBasket Solutions – Cost-saving tips for shipping optimization
ZenBasket provides a comprehensive set of solutions that address the challenges posed by hidden shipping costs, ensuring a streamlined shipping process and eliminating common pain points.
Transparent pricing
With ZenBasket, you can ensure a seamless and trustworthy buying experience for your customers. Shipping fees are prominently displayed at the beginning of the checkout process, giving customers the clarity and transparency they need to make informed decisions about their purchases. This builds trust and loyalty towards your brand, enhancing customer satisfaction.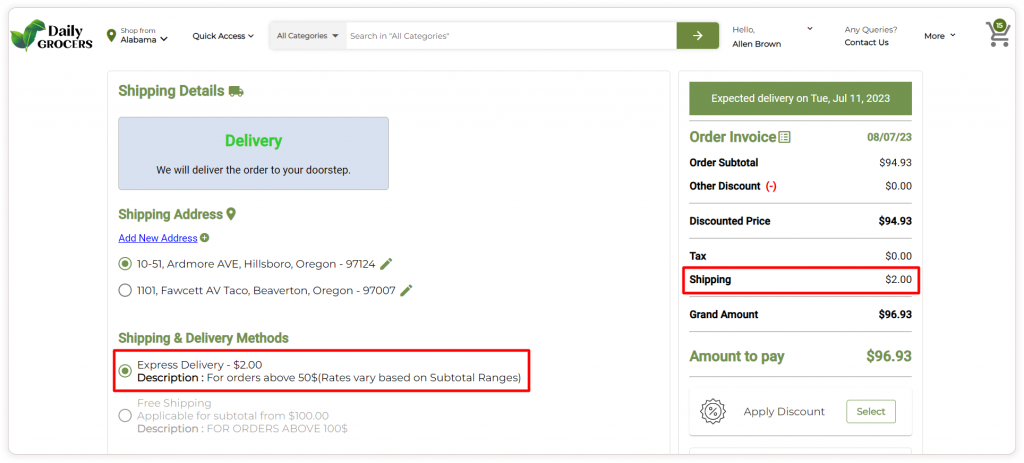 Free Shipping thresholds
Encourage larger orders and increase customer satisfaction by implementing Free Shipping thresholds. Set a specific order value threshold where customers qualify for free shipping. This strategy encourages customers to add more items to their carts, boosting the average order value. Not only does it help increase sales, but it also eliminates customers having to pay shipping fees.
Additionally, clearly communicate the estimated delivery times to manage customer expectations and provide a transparent shopping experience. By implementing Free Shipping thresholds, you can drive higher order values and enhance customer loyalty.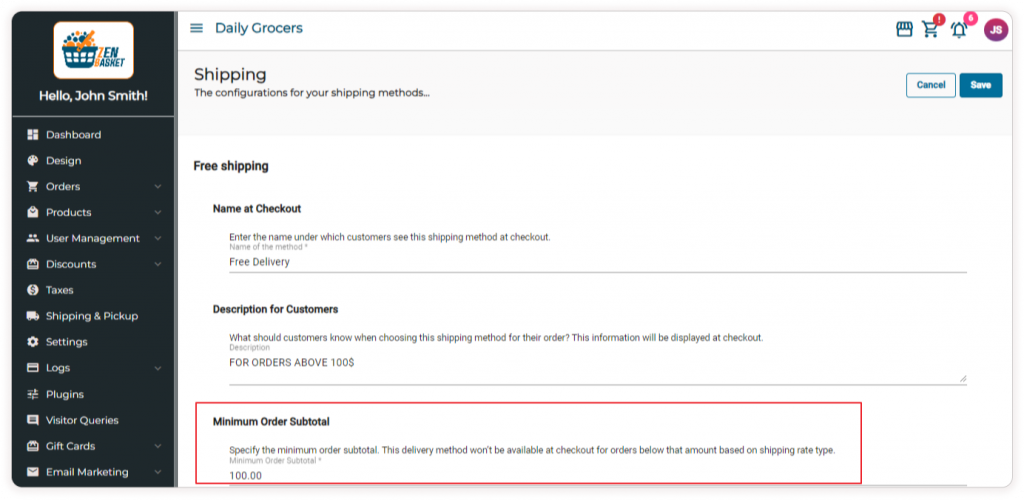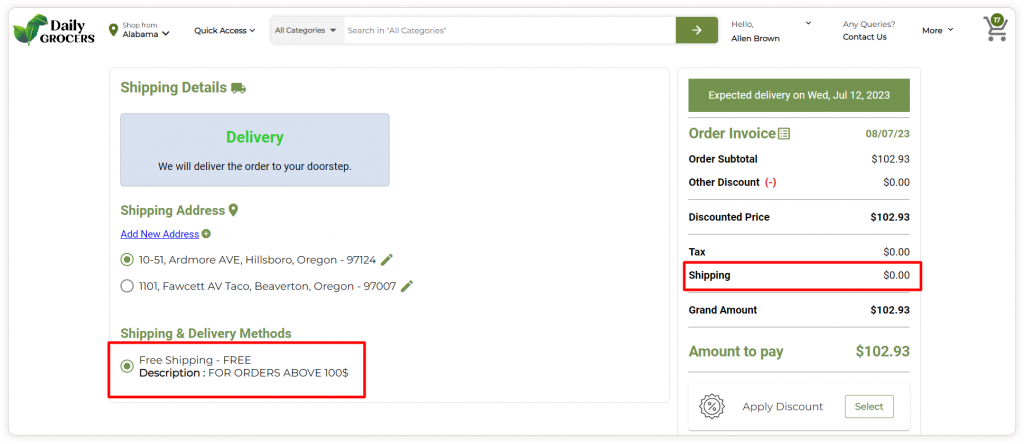 Shipping Options and Rates
Enhance the shopping experience on your website by offering diverse shipping options tailored to order subtotal ranges. By presenting customers with a range of shipping rates, clearly outlined alongside their estimated delivery times, you empower them to choose the option that best suits their needs. This flexibility not only provides transparency but also accommodates different budget preferences.
ZenBasket's Conditional Rate Shipping enables businesses to set specific shipping conditions, such as order total thresholds and varying rates for different order ranges. For example, if the order total falls between $50 and $75, a $5 shipping fee applies, while orders ranging from $75.01 to $99 incur a $2 fee. Finally, customers can enjoy free shipping when their order total exceeds $99.01.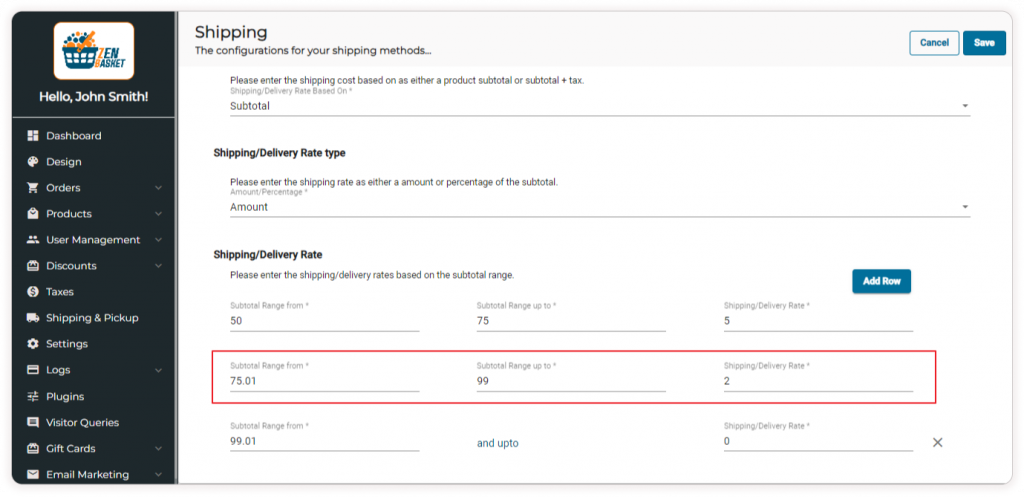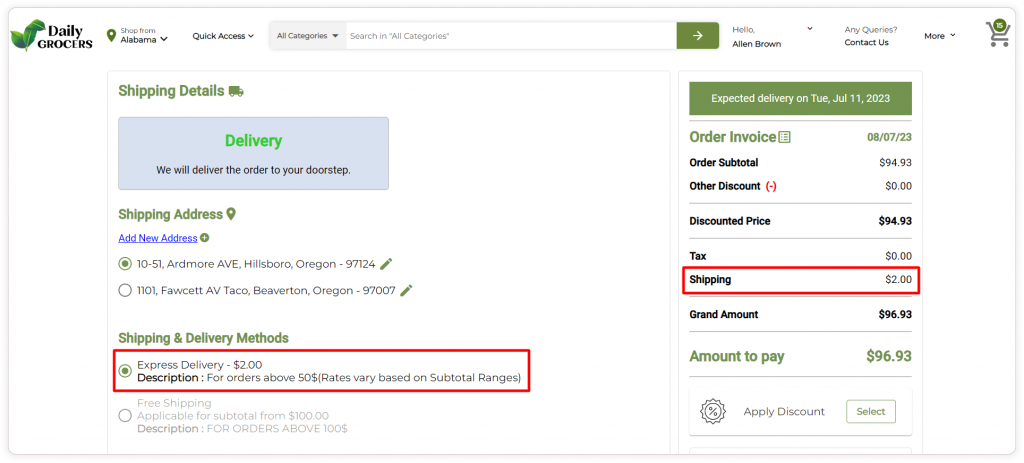 Clear Shipping Policies
ZenBasket's Legal Forms feature offers you a dedicated and user-friendly section where you can effortlessly create and personalize your shipping policies. By doing so, you guarantee transparency and clear communication with your customers, while also taking into account any possible additional fees or charges that may arise during the shipping process. This ensures a seamless and informed experience for your valued customers.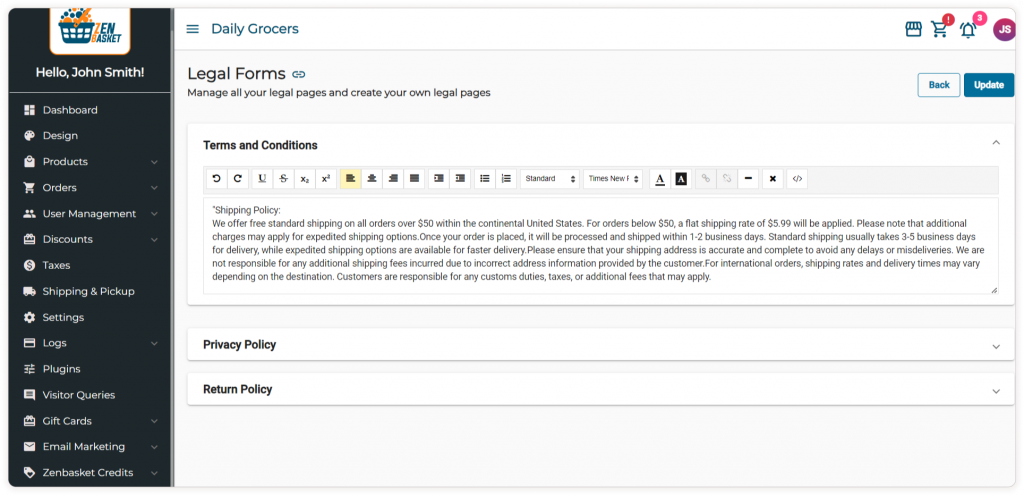 Accurate weight and dimensions
With ZenBasket's product specification feature, you can accurately enter the weight and dimensions of your products, ensuring precise shipping cost calculations. By providing accurate details, ZenBasket enables precise estimation of shipping costs, making it easier for businesses to manage their shipping expenses effectively.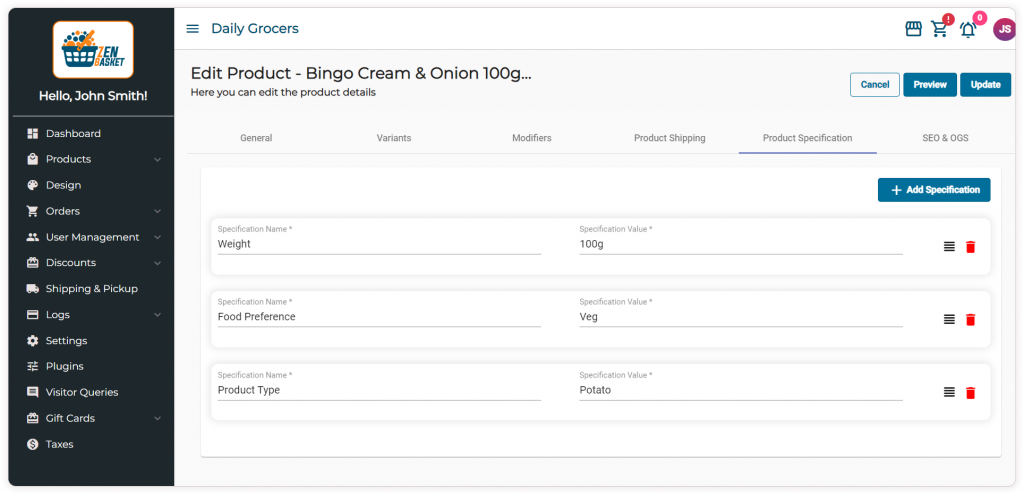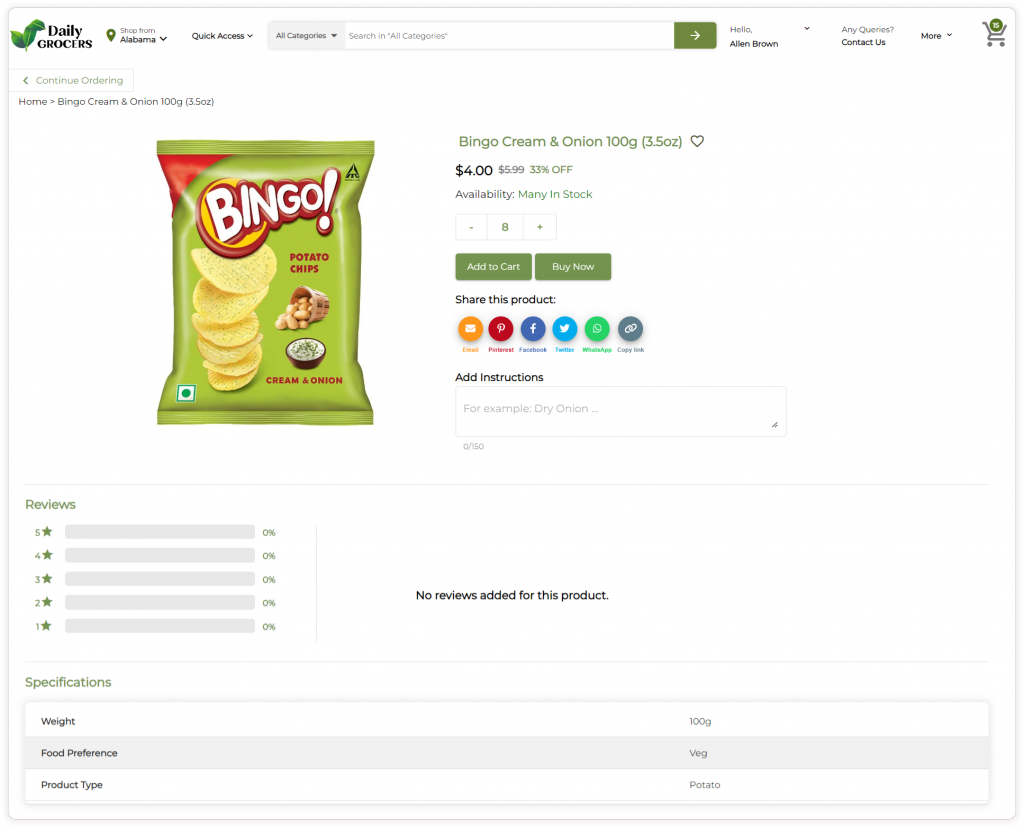 Proactive Customer Support
Customers can easily inquire about shipping fees through the store's Contact Us page, receiving prompt responses. Direct communication with the business owner is also available via email and phone, while a comprehensive FAQ section offers self-help solutions.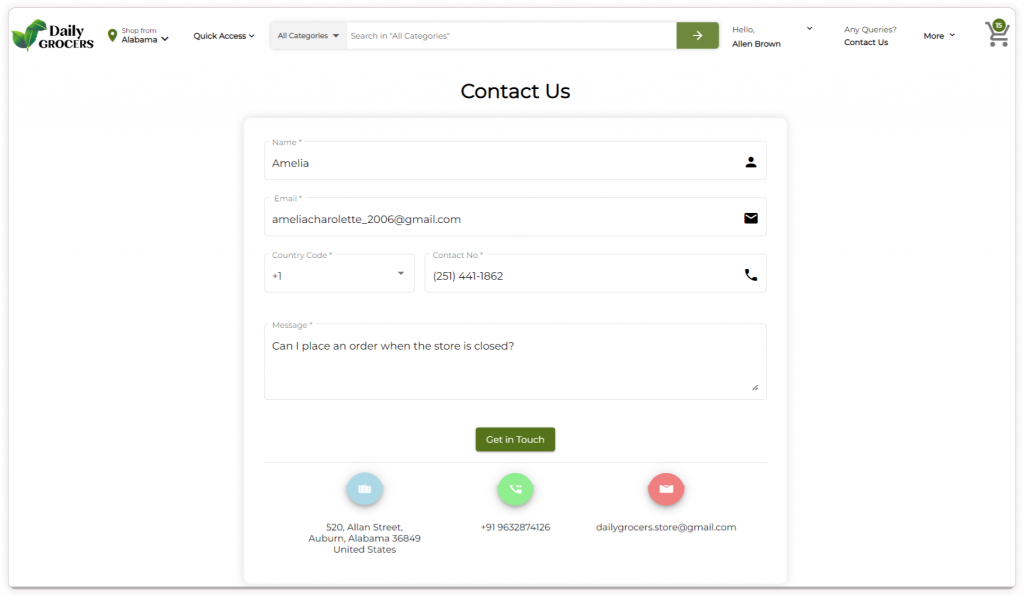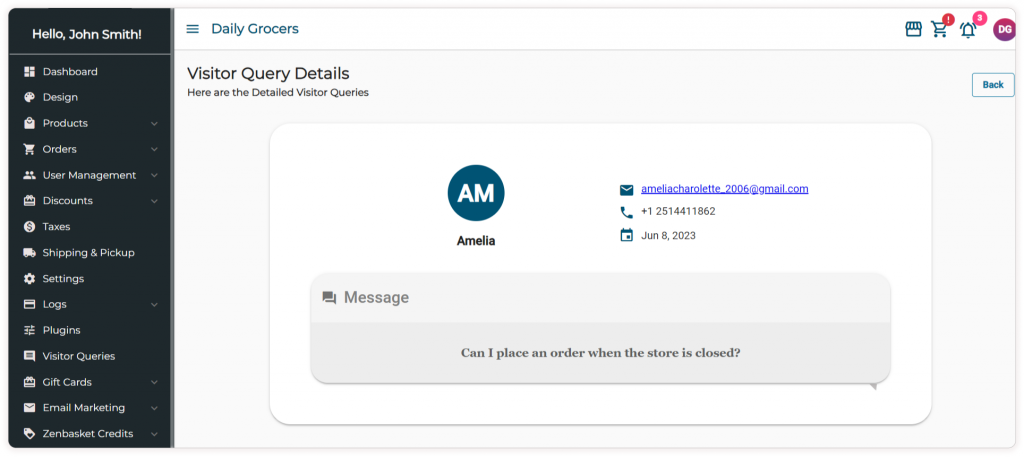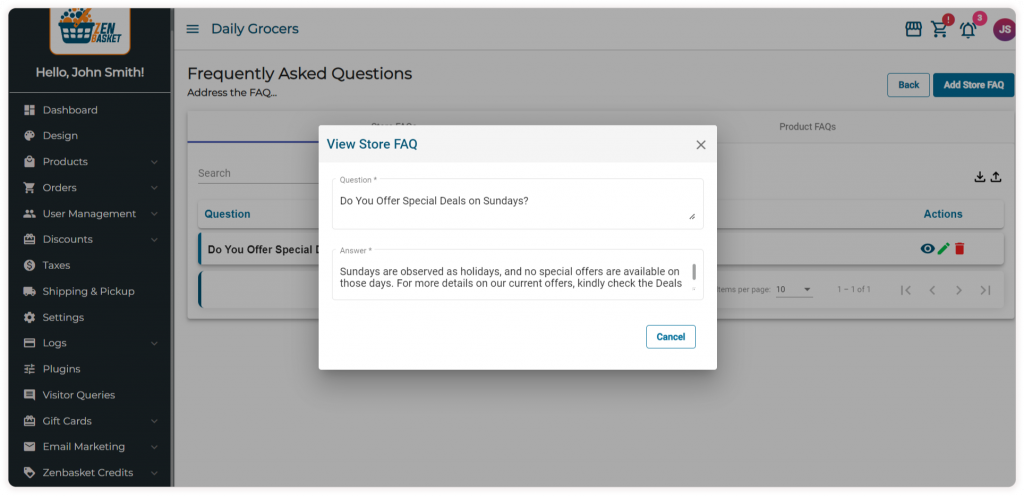 Conclusion
In the world of Ecommerce, shipping costs play a significant role in shaping the profit margin of a business. The ability to minimize major expenses becomes crucial for success and growth. Hence, it is imperative to adopt effective strategies and shipping solutions that can help reduce unnecessary costs. ZenBasket enhances the shipping experience with transparent pricing, free shipping incentives, customizable options, and exceptional customer support, providing businesses and customers with an outstanding shipping solution.enhances the shipping experience with transparent pricing, free shipping incentives, customizable options, and exceptional customer support, providing businesses and customers with an outstanding shipping solution.
Centizen
A Leading IT Staffing, Custom Software and SaaS Product Development company founded in 2003. We offer a wide range of scalable, innovative IT Staffing and Software Development Solutions.
Contact Us
USA: +1 (971) 420-1700
Canada: +1 (971) 420-1700
India: +91 86107-03503
Email: contact@centizen.com