Centizen Guide to Manage Remote Teams
A sudden shift in the Remote Work Culture has pushed businesses to manage remote teams for the first time. Managers found it a challenge to monitor and ensure employees are being productive, focussed and aligned. It is always preferable to establish a strong remote work culture, policies and training in advance, to avert predictable crises in the near future. There are other aspects that need to be addressed and established to manage remote teams effectively and keep them engaged, creative and contributive to the overall productivity and success of the organization.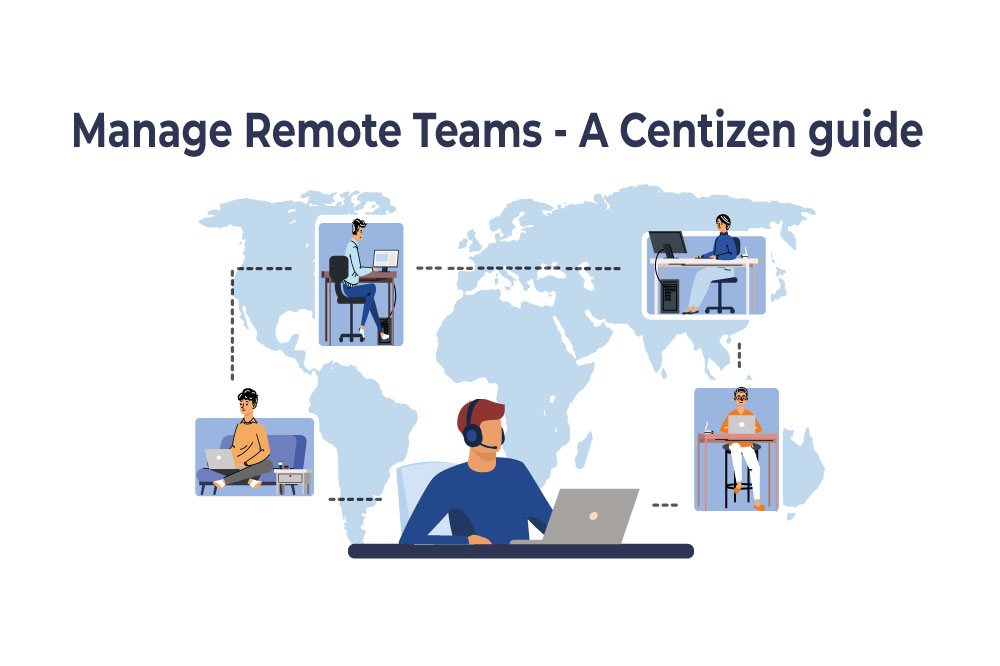 Challenges of Remote work
Managers must be aware of the challenges employees might face due to this sudden transition from physical offices to work-from-home culture. It is expected of the managers to be more empathetic towards their team members to nurture, guide and support them. Otherwise, even experts may experience rejection in job performance and engagement. Challenges include
Lack of personal supervision
In physical offices managers conduct face-to-face meets and get updates on how much work is complete and what is left to be done. But with remote teams that is not feasible. In remote work, the management cannot spend time monitoring each employer like in-house work mode. This becomes a hurdle especially if they belong to different time zones.
Lack of access to information
Managers find it difficult to get information about the ongoing projects as and when required. Moreover, as teammates cannot meet over coffee breaks or lunches, they fail to catch up on little details or sometimes they miss important information. This may create a feeling of isolation and leads to mental illness.
Lack of trust
Before the pandemic hit, businesses were skeptical about allowing employees to work from home because of the doubts related to productivity. Even now, when almost all businesses have followed the remote work culture, managers have trust issues. Even today there are few managers who believe that employees who work more time are more productive. In that aspect, how can that manager believe the employee who completes the task in less time remotely?
Social isolation
Loneliness and isolation are the most common issues in remote work. Employees miss the informal social interaction of an office setting. At the office, when an issue occurs the team members come together to solve the problem. Whereas in remote work culture, issues often go unnoticed. This may reduce the team spirit at the time of trouble.
Distractions at home
Not everyone can work at peace all the time at home. With daycares and schools shut down, parents might have a hard time looking after the kids and taking on the regular chores while working. There may be people who are primary caregivers to aged parents and children with special needs. Moreover, technology may trip you as your phone coverage and internet speeds may not meet the requirements of your job. So employees must make sure they have access to the right technology.
7 Tips to manage remote teams
Daily check-ins
Managers can have daily check-in meetings to have updates about the ongoing projects, remind employees about the goals, and unwrap the challenges and issues faced in the current assignments. It helps managers to keep track of the performance, work completion and estimated time for work to be completed. Check-in meetings encourage employees to set personal goals, perform efficiently and can get feedback on a regular basis. This may increase the level of engagement since employees feel monitored and accountable. Managers also feel involved in their team's performance and have an edge where they can correct any issues on the spot before it is too late and gets out of hand.
Use of technology and tools
When team members are distributed across the globe, managers might struggle to create a sense of oneness among the team. To encourage interpersonal connections and to brainstorm with your team, leverage technologies like Zoom, Microsoft Teams, to mimic physical office experience. To provide a centralized place for communication and document sharing, make use of online cloud-based management tools. This results in high productivity to manage remote teams without any financial costs. File sharing tools help collaborate, share, and access documents anywhere, anytime. Some examples are mentioned below:

Communication Tools – Slack, Krisp, Troop messenger
Video Conferencing Tools – Skype, Zoom, Appear.in
File-sharing Tools – Google Drive, DropBox
Project Management Tools – Basecamp, Jira, Trello
Time management tools – Time Doctor, Toggl

Figure out and delegate responsibilities
When each employee is assigned a particular task and is held accountable, it is less likely they mess that up. The sole responsibility of a manager is to identify who is best suited for a particular task and assign the work accordingly. Delegating tasks helps employees to upscale their skills and prepares them for their future. It makes the workload more manageable and takes the load off the shoulders of the manager. Choose the person who is best suited for the task, explain why you are delegating, provide the right instructions, resources and training, and always appreciate their efforts.
Focus on outcomes, not the activity
Mentor more than manage. To get the best out of your team members, let them know the final picture of the output and allow them to freely work in their own style. Instead of tracking the performance using trackers, it's much more important to focus on the end results. Micromanaging employees implies that they are not trusted enough and this causes stress and dissatisfaction at work. Trust your employees by assigning them work and holding them accountable at the end. All you need to do is make sure they have all the resources they need to complete the assigned work and empower them. Empowered employees are more productive, creative and focussed so it paves the way to manage remote teams easily.
Establish Rules of Engagement
Employees are more engaged when they know what to expect and when to expect. Managers must make it clear about the ideal timings and frequency of communication with their teams. Set a regular time for check-in meetings so that the team members are ready with information to share with managers. Schedule video conference meetings weekly or bi-weekly for in-detail information sharing about ongoing assignments. Managers must also make sure they are available for their teams for clarifications or resolving issues when required. The agenda, schedules and medium of meetings are decided well in advance, it becomes easier to sync everybody's time zones and availability for a meeting.
Provide opportunities for remote social interaction
With the remote culture rampant everywhere, employees are suffering from the feeling of social isolation as they miss their regular chit-chats during coffee breaks, after-work dinners etc. Managers should make it a point to create opportunities for the team to come together virtually. Teams can meet virtually over coffee or lunch or can drop in before a meeting starts to have a casual conversation. Online channels for non-work banter like discussing what people are binge-watching can be created. Games like Trivia Night and Bingo may be played online or employees can meet in virtual book clubs and resource groups.
Offer encouragement and emotional support
Managers should also look for opportunities to celebrate work milestones and appreciate high performers virtually. Research shows a leader's mindset and behaviors drive the moods and behaviors of everyone else. When a manager has high emotional intelligence, it reflects in the work culture and environment of their team. So managers should be mindful of the team members' stress and well-being. One of the primary responsibilities of a manager is to motivate and inspire the team members by constant communication and appreciation. Various social activities and team-building exercises can be conducted to improve the feeling of oneness and belonging. The efforts and performances of all the workers irrespective of the hierarchy should be acknowledged to offer encouragement.
Final Thoughts
Managing remote teams successfully does not rely on strict schedules and micromanaging but lies in empowering the team to achieve greater results. When the team members are happy and stress-free in their remote environment, they produce better results. Creating opportunities for team bonding and showing empathy ensures the well-being of the employees. The managers must allocate appropriate tasks, provide the necessary resources and tools, offer freedom to execute the tasks and appreciate their efforts to build a high-performing remote team.