Mastering Remote Team Performance: Proven Strategies for Success in 2023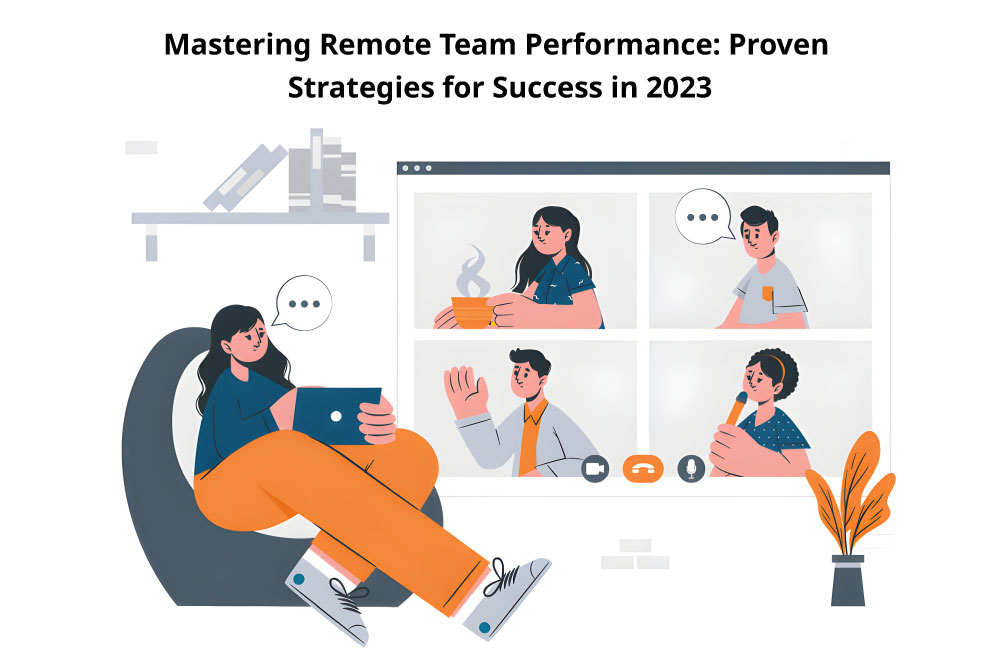 The year 2023 marks a pivotal moment in the evolution of remote work. The ongoing transformation in the way we work requires organizations to adapt and thrive in increasingly geographically diverse and time zone-dispersed remote teams. To stay ahead in the remote work game, you need effective tactics.

What should growing businesses focus on to form high-performing remote teams?
1. Recruiting the right workforce for remote success
The landscape of work has evolved dramatically, with remote work taking center stage due to the COVID-19 pandemic. Recruiting the right workforce is a critical step in ensuring success. In 2023, it's essential to identify individuals who are not only skilled in their roles but also possess the self-discipline, adaptability, and communication skills required to excel in a remote environment.
2. Defining clear objectives for your remote team
Clarity is the cornerstone of remote team success. Every team member should have a crystal-clear understanding of the organization's overarching goals and how their roles contribute to the big picture. Defining roles and responsibilities, along with providing robust support mechanisms, ensures seamless collaboration and removes obstacles to team growth and achievements.

3. Enhance communication and unity in your remote team
Team members scattered across the globe face unique challenges in developing a shared understanding and a sense of unity. Leverage cutting-edge technological tools such as video conferencing platforms and project management software to facilitate connections. By creating a virtual office experience, you can foster a sense of togetherness and improve project management. When team members fully grasp their responsibilities and contributions, it leads to enhanced project management and personal growth.
4. Fostering open communication and innovation & thoughts
In a remote work environment, employees might hesitate to share their valuable ideas due to concerns about how leadership will react. Cultivate a culture of open communication where every employee knows their ideas matter. Encourage the sharing of feedback during regular review meetings to boost employee engagement, loyalty, and productivity within remote teams.

5. Streamline collaboration with cloud-based tools
Empower your team with cutting-edge, cloud-based project management tools such as Asana, Basecamp, Microsoft Project, or Smartsheet. These tools provide a centralized platform for communication and document sharing, ultimately enhancing productivity and mobility for every team member. Each of these tools has unique features, so it's essential to choose the one that aligns best with your team's needs.
6. Promoting continuous learning for remote team excellence
Learning is a perpetual process, and it's crucial for employees to stay updated with the ever-evolving world of work. Encourage employees to make learning an integral part of their work. Set clear learning objectives and motivate employees to achieve them within a defined timeframe. Robust learning programs help employees unlock their potential and deepen their commitment to the organization.

7. Monitor and optimize remote employee performance
Evaluating the performance of remote employees can be challenging due to their physical distance from the workplace. Implement performance metrics, Key Performance Indicators (KPIs), and internal tools to keep tabs on progress. Regular performance reviews help employees understand their standing, enable employers to identify areas for improvement, and offer incentives to high-performing team members.
Concluding insights for remote team success
In conclusion, mastering remote team performance requires dedication and adaptability. It starts with recruiting the right talent and setting clear expectations. Encourage continual learning, foster open communication, and closely monitor performance. Stay abreast of the latest trends and create a culturally sensitive and secure work environment. This ensures that your remote team thrives in the ever-evolving world of work.
Centizen
A Leading IT Staffing, Custom Software and SaaS Product Development company founded in 2003. We offer a wide range of scalable, innovative IT Staffing and Software Development Solutions.
Contact Us
USA: +1 (971) 420-1700
Canada: +1 (971) 420-1700
India: +91 86107-03503
Email: contact@centizen.com