How to hire an Offshore Development Team for a Startup

The most valuable asset of any startup is its skilled workforce. Being a startup and a budget on tight reigns, it is hard to manage the increasing competition to acquire expensive local talents. However, because there is no way to retreat, the only option is to locate a successor, which should be worthwhile. Offshore outsourcing is a commercial activity in which companies outsource IT services to a foreign country in order to save money. The IT outsourcing industry is expected to grow at a rate of 2.6 percent per year through 2027, reaching $410.2 billion. This article discusses the ins and outs of hiring an offshore development team for a startup, as well as the major considerations that should be made prior to recruiting offshore development teams.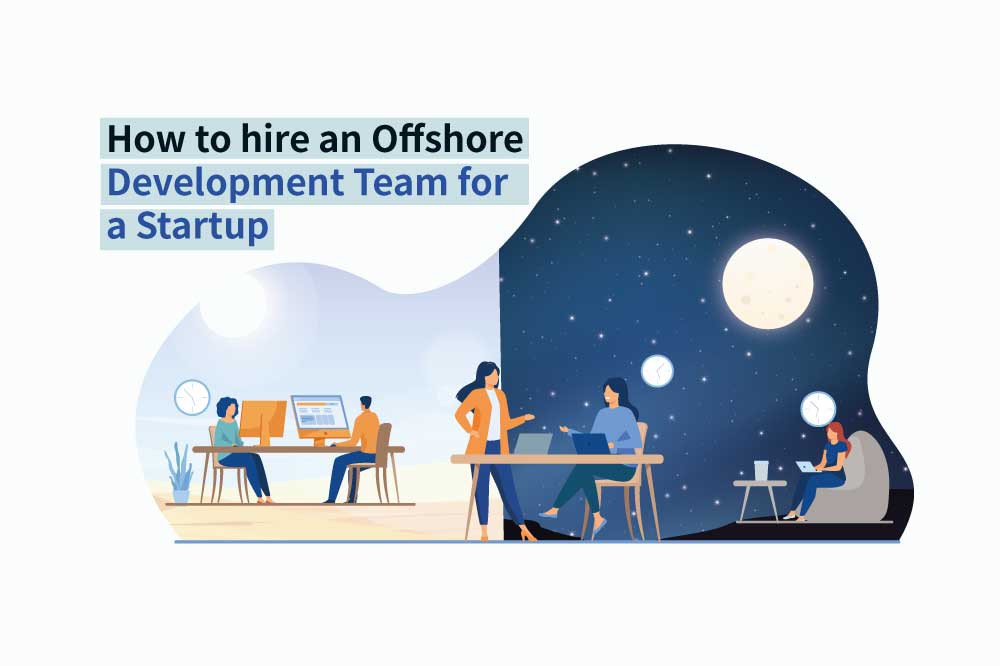 What is an offshore development team and Why is it needed?
A development team of seasoned, experienced, and talented IT professionals located in a remote location with multiple time zones to delegate software production operations recruited through a reputable offshore development business is referred to as an offshore development team. The offshore outsourcing model builds a clear framework with agile methodology to promote iterative development. The big tech companies look forward to hiring offshore developers with reliability and affordability. The offshore development team doesn't need much supervision, and they can be aligned with the businesses' work style and vision. In short, they are easy to assemble as a high-performance startup team to stay ahead of the competition.
Why does a startup need an offshore development team?
Minimizing the talent gap – By 2026, the talent deficit in the United States is expected to reach 1.2 million people. Focusing more on statistics, startups must be more aware of talent shortages, since they cannot always afford traditional resources to acquire and keep highly competent employees. As a result, offshore employment will become a need in the next years in order to establish a market with a diverse variety of capabilities across borders.
Improved flexibility – For a startup, time is a crucial business imperative to excel in a competitive environment. To be factual, "Time is money", so startups should be mindful in the area of flexibility, as big companies face difficulties while scaling up their in-house teams. Startups that incorporate offshore development teams are able to scale up and down at an ease for their services, customer target, business models, etc. Moreover, augmenting and shuffling developers for different project requirements is a piece of cake.
Cut the Cost – Because of the lack of funds, 46% of startups don't get off the ground. So startups are very cautious about their budget and a bit strict on their expenditure to escape such fate. Considering the spending on renting office spaces, setting up equipment, recruitment costs, vacations, and insurance benefits, hiring an offshore development team is much more reasonable to mitigate the budget risk. With the offshore development team, the money you save can be spent on things that assist growth.
Checklist for Startup companies – To hire an offshore development team
Before hiring an offshore development team,
Identify the issue you are set out to solve, list out the primary goal, requirements, and the deadlines and a backup plan should you face the odds.
Make a list of roles, skills, expertise, and the technology stack needed for your project.
Plan the expenditure in advance to make a clear view of the budget constraints. Misuse or failure in the budget may lead to loss, so define the size of your initial capital, constraints to eliminate the risk of the unrealistic bottleneck.
Depending upon the budget, and the requirements define your collaboration model like either hiring freelancers or hiring developers through reputed outsourcing companies like Centizen Talent Hub, to further reduce the cost and the time. Hiring offshore developers through outsourcing companies like Centizen Talent Hub will eliminate the need to surf the best offshore destination in terms of geographic and cultural proximity.
No matter what model you prefer, to shortlist the best fit potential candidates, check out their track records, technical skills, workflow, and if you are satisfied make a legal contract with the shortlisted candidates for a prosperous and long-term collaboration.
When the process is done, and you are ready to meet your remote team to build trust and facilitate team bonding.
How to choose the best offshore development centers (ODC)?

For startup founders, the most concerning part in hiring an offshore development team is where do they hire offshore developers? You can find large IT professionals offshore from a vast pool of talent at an inexpensive rate. The range of offshore development centers varies with their infrastructure, technical expertise, and some regarding the legal environment. Choosing the right destination is solely in the hands of the startup founders.
Let's have a look at the various geographies
Eastern Europe, Latin America, and Asia are the trusted regions in offering the leading offshore development services. These regions are highly trusted for their reasonable price-quality ratio, vast talent pool, unique advantages due to their time zone or culture, etc.
Eastern Europe
In Eastern Europe, offshore developers are well-versed in programming languages with broad commercial experience. The popular IT hubs in Eastern Europe are Ukraine, Poland, Belarus, Romania, etc. The offshore development market here grows five times faster than the average with 470+ renowned IT services. Approximately eastern Europe has nearly 1 million professional software developers, collectively generating $5 Billion in revenue.
Latin America
Latin America has a steep growth in the field of the software development industry, thus holding a strong impression as the preferred destination for US projects. Argentina, Brazil, Mexico, Colombia, and Chile are one of the business-friendly countries in Latin America. In terms of fully remote companies, Latin American employees are 1.8 times more willing to work remotely with an average pay of $30 to $55/hour based on the developer's qualifications.
Asia
In the IT outsourcing industry, Asia accounts for the biggest number of outsourcing destinations and seems to be a paradise for startups who are looking for a dedicated offshore development team. Asia comprises India, China, the Philippines, Vietnam, and Indonesia, etc with over 7 million developers. Asia has been an idol destination for its cheaper rates by two to three times, and are brimming with talented developers to join your startup.
Join hands with an offshore recruitment firm – Centizen Talent Hub
To make a startup business thrive at low-cost and effort, startup founders seek new solutions to simplify or revamp their workflow. We at Centizen Talent Hub, understand their pain points and have been recruiting lots of offshore development teams for multiple clients before the deadline.
Centizen Talent Hub is an offshore recruitment firm that actively recruits pre-vetted Indian developers, helping numerous companies to hire, manage and retain the talents to leverage top-notch technologies.
Centizen Talent Hub recruits Indian developers, because India is the fastest growing outsourcing destination and stands second in the world after the US. With 5 million tech experts, India delivers 3.1million well-trained talents every year relatively at a lower price of $25-$30/hour. India also has great digital and technology delivery capabilities that too at a considerable cost advantage.
Conclusion
If you are a startup with the idea of hiring an offshore development team, you are on the right track. Hiring an offshore development team will cut corners thus bridging the communication gaps for seamless project progress until completion. To make offshoring work, startups must clearly define their goals and visions, being aware of the challenges for sustainable growth. Centizen Talent hub maintains great records in offshore recruitment and is one of the best platforms for a startup to recruit Indian offshore developers to build a dedicated development team.