How to Overcome Challenges with Scalability for Your Online Business with ZenBasket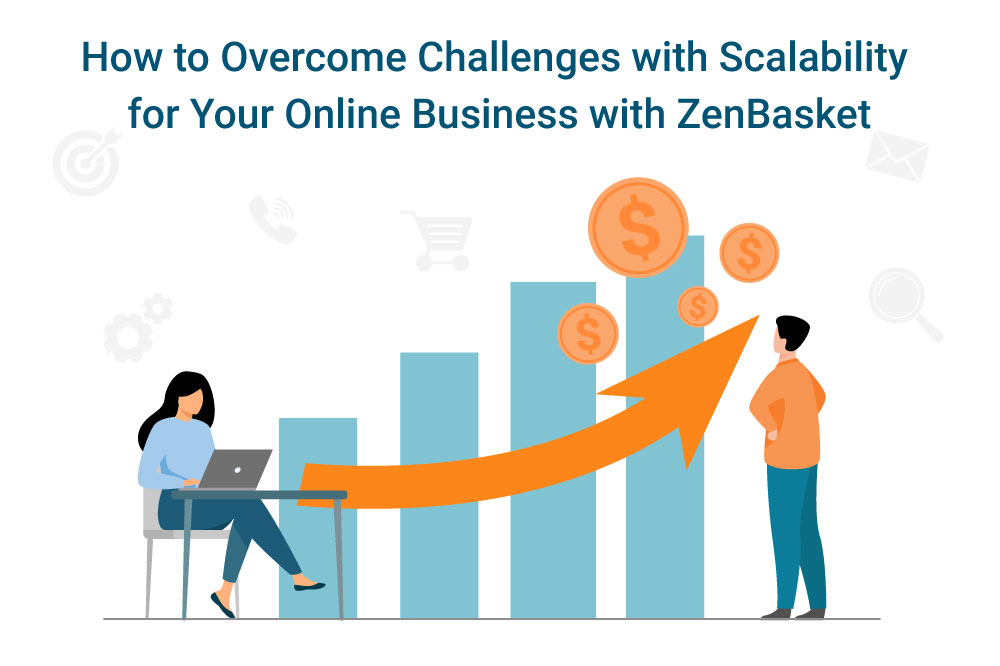 Scalability in Ecommerce is a business's ability to handle more customers and business activities without compromising performance or the ability to generate revenue. It can create significant opportunities but it can also have inherent risks that can hinder a business's growth.
As your business expands, you may have to handle increased website traffic, manage a larger inventory, process a greater volume of orders, and ensure a high level of customer service. To ensure the smooth operation of your online business as it grows, it is crucial to address these challenges comprehensively.
ZenBasket Solutions :
Here are some examples of how ZenBasket can help overcome scalability challenges for Ecommerce businesses.
Reliable under heavy customer traffic
ZenBasket's website is designed to handle a large number of visitors without slowing down or crashing. It has a strong server infrastructure designed to manage large volumes of incoming traffic. ZenBasket's platform uses a technique called load balancing, which distributes the load across multiple servers, ensuring that no single server gets overwhelmed. With this technique, as the traffic increases to your website it remains fast and reliable, ensuring a positive shopping experience for your customers.
Responsive browsing experience
ZenBasket ensures that your website performs with speed and responsiveness, providing customers with a fast and seamless browsing experience. This means that every action, from adding items to the shopping cart to navigating through pages, is seamless without any delays or interruptions. We prioritize the smooth functioning of your website, eliminating any disruptive issues or prolonged loading times that could potentially discourage customers from completing a purchase.
Scalable database capacity
The scalability of your Ecommerce platform relies heavily on the scalability of its database. The database's capacity to handle increasing data and perform efficiently will directly impact the expansion capabilities of your website. ZenBasket's robust database can effectively handle an extensive amount of product catalogs, order data and user information. The scalability of the database allows it to seamlessly adapt and accommodate your evolving needs. Whether you have a large number of orders or a vast catalog of products, the database will maintain its efficiency, providing a great experience for your customers.
Conclusion
Scalability is the cornerstone of Ecommerce success, enabling businesses to grow without compromising customer satisfaction or operational efficiency. As your online business expands, you'll face challenges like dealing with more visitors, handling a larger inventory, increase of orders, and ensuring excellent customer service. To handle all these challenges well, you need to have a plan to manage them properly. Try ZenBasket and see the difference it can make. Sign up for a free trial and discover how ZenBasket's solutions can propel your online business to new heights.
Centizen
A Leading IT Staffing, Custom Software and SaaS Product Development company founded in 2003. We offer a wide range of scalable, innovative IT Staffing and Software Development Solutions.
Contact Us
USA: +1 (971) 420-1700
Canada: +1 (971) 420-1700
India: +91 86107-03503
Email: contact@centizen.com