Home Care Service Application
Human beings are becoming more reliant on technology. Mobile and tablets have taken over almost every aspect of our life and the health industry is not alien to these as well. Problem faced by the majority population has dedicated a chunk of their time taking care of their elderly. This can cause unnecessary complexity in both individuals' life. A survey has revealed that nearly 92% of adults prefer to be treated in the comfort of their own homes rather than a nursing home or hospital. Home care service comprises professional assistance that helps an elderly or someone with a medical condition. In the comfort of their home, they are provided short-term or long-term services. It also includes assistance to an individual with their daily activities, helping them to manage tasks around the house and offering companionship.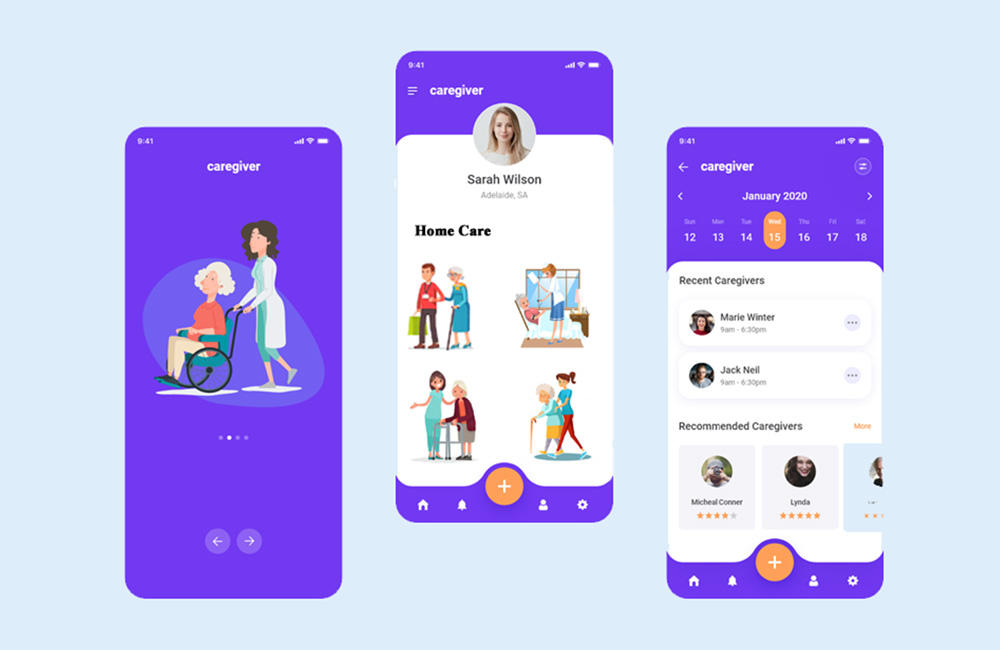 Background
Client, a leading Home Care service is committed to making its services available to their locality. Hiring a qualified care provider is not easy and is what most families are looking for. Home care Service application could be the solution to this. Our client required a holistic app from finding to hiring and paying for care taking services in a single application.
Challenge
Our client's existing architecture involved user profiles, task management, feedback and payment services with complicated manual data processing. It is a quite complex process to schedule the time and location for each visit and maintain them manually. A customer needed to know exactly who's coming, when they arrive and when they leave. The application should handle the payment gateways and also store feedback after each visit.
Centizen Solution
Centizen came up with a mobile application that can access database to record and provide these information. The user can make a request to select the type of care/service he would like to get. Some services include medication reminders, daily needs, home supplies or even everyday errands. After the request is submitted, the app matches the user's requirements to relevant caregivers by the rating systems.
For Geo-location tracking purposes, our developers integrated the app with Google Maps Service. With the help of this application, the user can know the exact location. For Payment Service, the app was integrated with Stripe Payment Service, a secured payment gateway.
Centizen's team developed the application in a way that lets the Home Care Service Application administrator keep an eye on and manage or configure clients' requests, gaining statistics on app usage and payment flow.The application is flexible and designed to have an interactive interface.
Business Value
Cost and Time-saving
The app helps the caretakers to better save time in track-down and scheduling their travel plans via mobiles/ tablets in accordance with their next visit. We offer customers to have 24/7 to have access to route information, scheduling, time tracking and billing services, thereby providing the best quality of services.
Effective Communication
Our app comes with features that help with fast real-time communication to discuss care plans, progress and any issues faced by either party. The main advantage is to have a communication bridge between caregivers and customers.
Secure Tracking
People might be hesitant to let strangers into their homes but an informed decision of who should be expected and when & where can relieve you of this tension. The Google Maps feature lets you document every visit of the caretakers.
Centizen
A Leading IT Staffing, Custom Software and SaaS Product Development company founded in 2003. We offer a wide range of scalable, innovative IT Staffing and Software Development Solutions.
Contact Us
USA: +1 (971) 420-1700
Canada: +1 (971) 420-1700
India: +91 86107-03503
Email: contact@centizen.com