Wind energy is the fastest-growing clean energy source consumed worldwide. Wind turbines can offer reliable electricity when maintained properly. It can be a highly competitive energy resource. If set up with a proper way to track and manage the turbine blades to repair or replace when required, increases profits.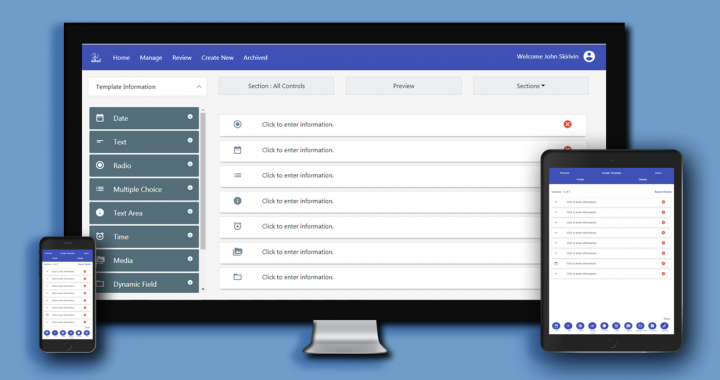 Background
Our US based Client who provides Windmill Inspection services needed a way to check the turbine blades at a faster and more secure manner. Once analysed a computer generated customisable report saves time and once a turbine's current condition is improved it is revised without the actual paper work.
Challenge
The main task was to create an interface with customisable inspection templates. The reports when generated and managed manually consumes unnecessary time. The interface should let user generate reports for inspection and report creation in an instant. The wind farms could be viewed as a map and a turbine's condition should be displayed with ease.
Centizen Solution
Centizen decided that a portable solution like a mobile or tablet application might be apt for inspection. Inspecting the wind farms, through web or mobile made managing reports painless. The application supports drag and drop feature, to let a user create customisable templates. The current status of a turbine is also indicated using colors to make the inspection simple.
Centizen's mobile application is designed in a way to include pictures to the report. To avoid the web traffic, the app is built using a remote database. The reports are viewed easier as a PDF and includes Google Map for precision.
Business Values
Reduced manual work and labour time spent on admin efforts.
Real-time automated reporting of turbines and remotely auditable.
Eliminated risk of lost/misplaced documents and handling documents.
Increase data efficiency due to data accuracy and reliability.
Real-time images and the video feed can be transmitted.
Centizen
A Leading IT Staffing, Custom Software and SaaS Product Development company founded in 2003. We offer a wide range of scalable, innovative IT Staffing and Software Development Solutions.
Contact Us
USA: +1 (971) 420-1700
Canada: +1 (971) 420-1700
India: +91 86107-03503
Email: contact@centizen.com