Simplifying the Ecommerce Return Process for Better Business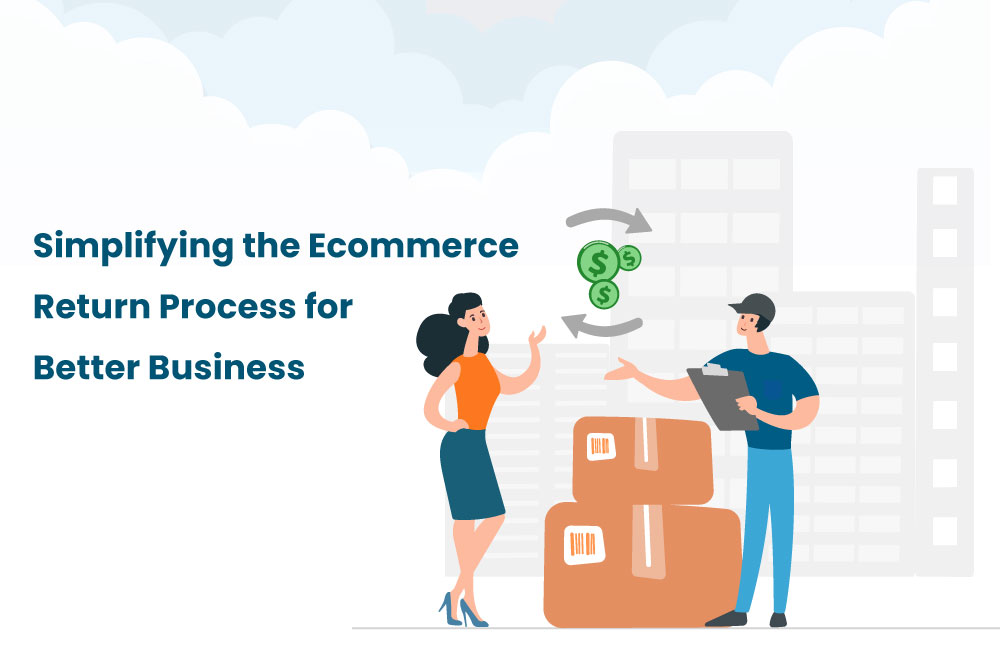 In today's digital age, online shopping has become a popular choice for many. One of the reasons behind this trend is the ease of returning items without any hassle or additional costs. Customers value the convenience of being able to initiate a return without complications. This ease of returning items is one of the decisive reasons that encourage people to shop online.
However, managing product returns can be a challenging task for store owners. Complex return policies, a delayed refund process, and insufficient customer support can create complications in managing the return process. This can result in a negative experience for customers, impacting their overall satisfaction and perception of a brand. Being prepared for product returns not only improves customer satisfaction but also enhances the brand's reputation.
ZenBasket Solutions
ZenBasket offers a range of solutions that streamline returns and eliminate the common pain points associated with return management.
Clear and concise return policies
It's important to have a clear return policy for your customers, removing any doubts or uncertainties they might have. With ZenBasket's return policy, you can specify the permitted return period for each product category. We prioritize an easy communication process and aim to provide a return experience that leaves no doubts. Your goal is to ensure your customers feel confident and well informed when they want to submit a return.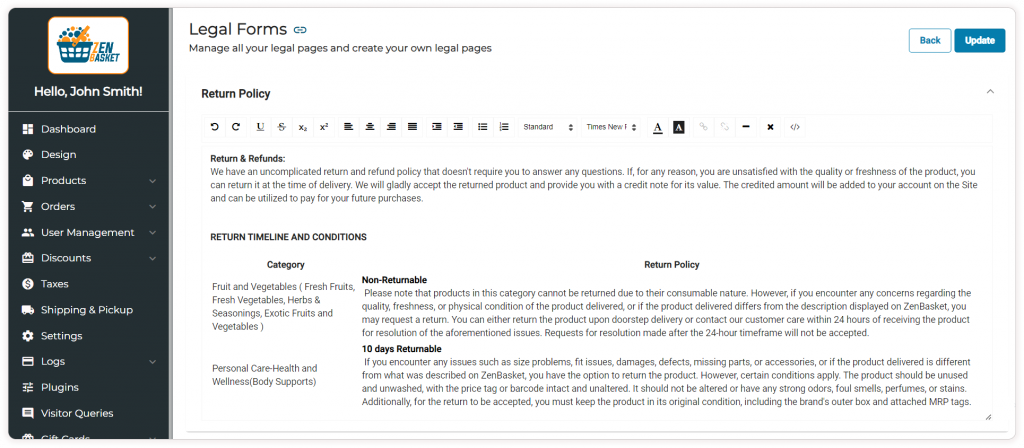 Easy returns, no paperwork required
Customers can initiate returns easily, without the need for any additional paperwork. We understand that these requirements can be time consuming and burdensome for your customers. Therefore, we have made the return process more straightforward and user friendly, eliminating unnecessary complexities and simplifying the overall process. With ZenBasket, your customers can enjoy easy returns without providing any proof of purchase.
Transparent return process
Provide customers with clear instructions on how to initiate a return and properly return products, including a detailed outline of the information they need to provide when submitting a return request.
After the order is delivered, both the customer and store admin have the ability to initiate a return request. There are two types of returns, product level and order level.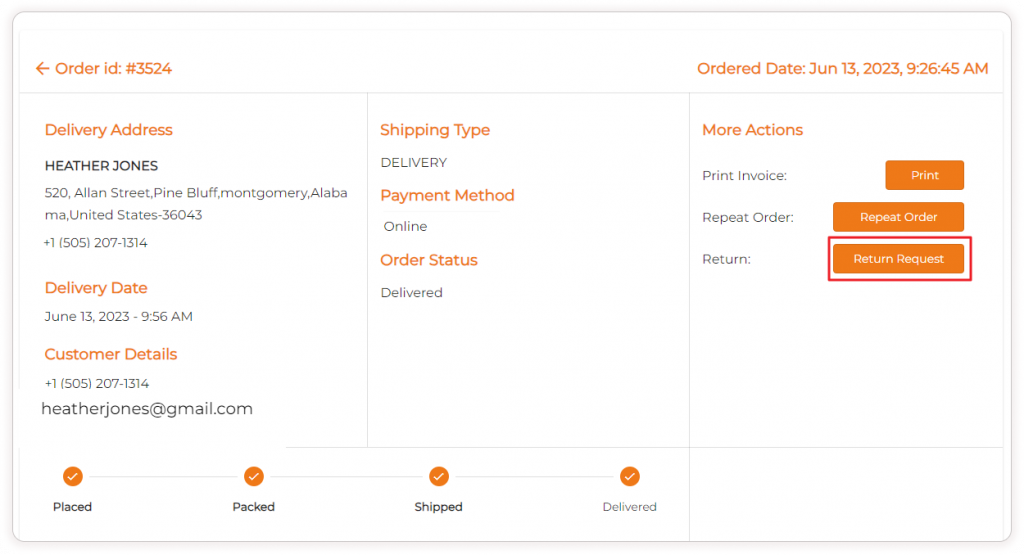 If the return request is initiated by a customer, he/she should proceed to complete a return request form, where they provide details regarding the reason for the return and indicate whether they prefer a replacement or a refund.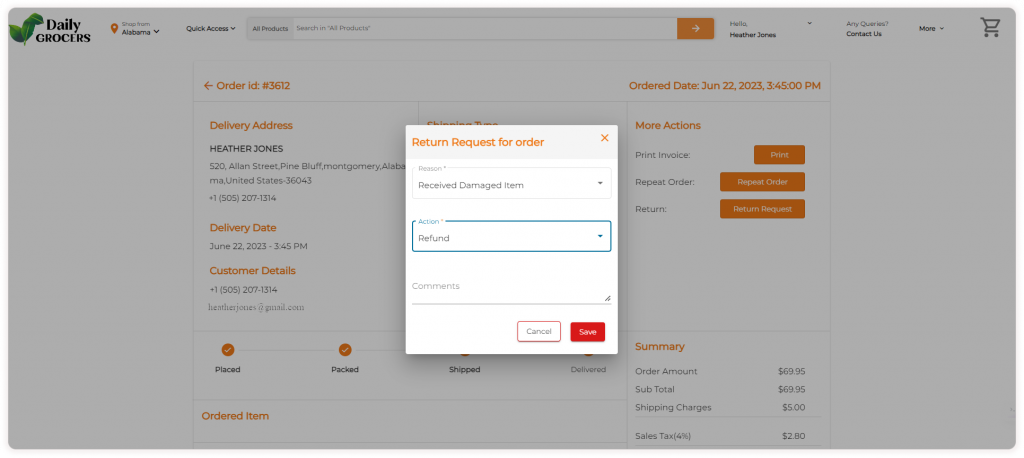 Once the customer submits the return request, the admin has the authority to either approve or decline the request.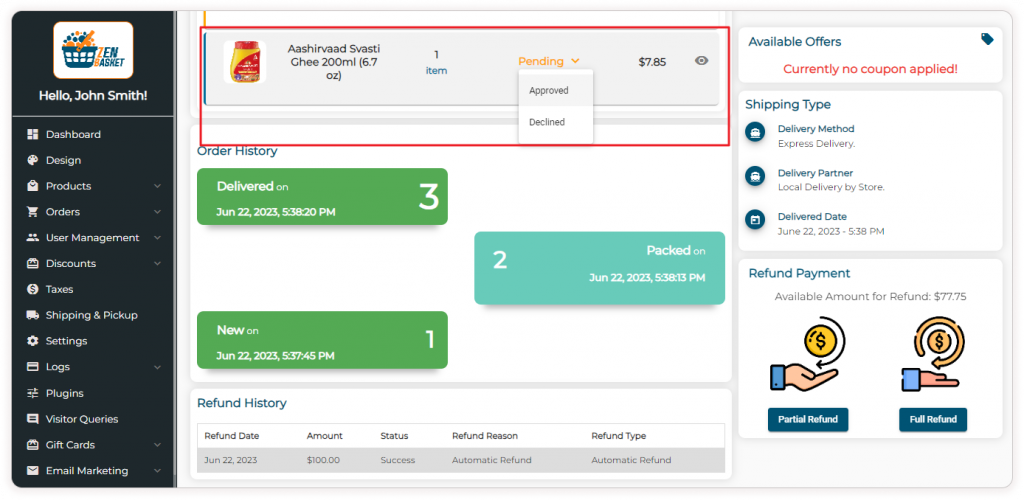 In the case of a product level return, a partial refund is given for each item returned, while for order level returns, a full refund is provided.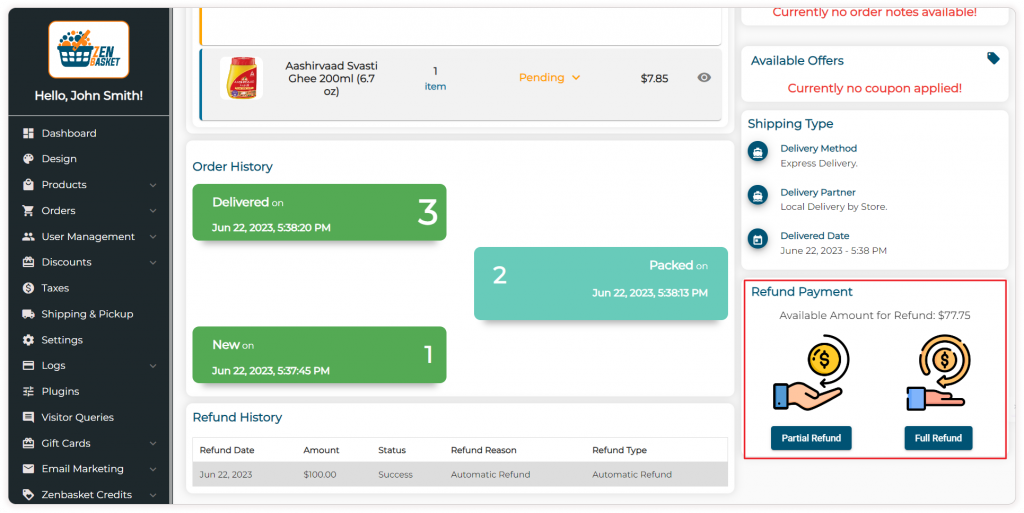 Timely Customer Support
You can proactively manage a clear response to customer inquiries and concerns. You can easily connect with your customers through responsive calls and emails, an informative FAQ section and a user friendly "Contact Us" page provided by ZenBasket. These features will showcase your dedication to customer satisfaction while ensuring their needs are met in a timely manner. Make it a priority to proactively communicate with customers and keep them informed about any delays or issues. Provide updates on the status and progress of their inquiries or concerns.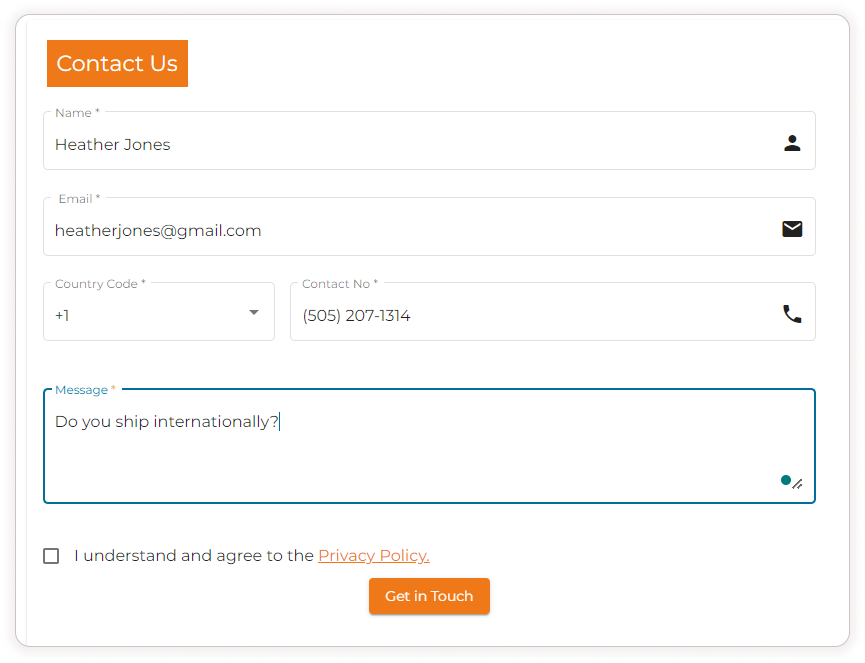 Conclusion
Managing Ecommerce store returns is now an essential part of the customer experience, but it doesn't have to be a burden. In reality, your approach to handling returns, both prior to and following the purchase, can set your brand apart, provide a competitive edge, and even drive greater profitability. Accepting returns may lead to financial setbacks and additional work, but its real value lies in improving your businesses reputation. Although it can be disappointing when items are returned, ZenBasket simplifies the return process, making it less stressful for everyone involved. By easing the burden of handling returns, businesses can focus on building strong relationships with customers, ultimately leading to a more positive reputation and growth. Overall, accepting returns can be turned into an opportunity for satisfaction and growth, which ultimately strengthens the foundation of a successful business.
Centizen
A Leading IT Staffing, Custom Software and SaaS Product Development company founded in 2003. We offer a wide range of scalable, innovative IT Staffing and Software Development Solutions.
Contact Us
USA: +1 (971) 420-1700
Canada: +1 (971) 420-1700
India: +91 86107-03503
Email: contact@centizen.com