Empowering Business Growth : ZenBasket's Solution for Limited Payment Options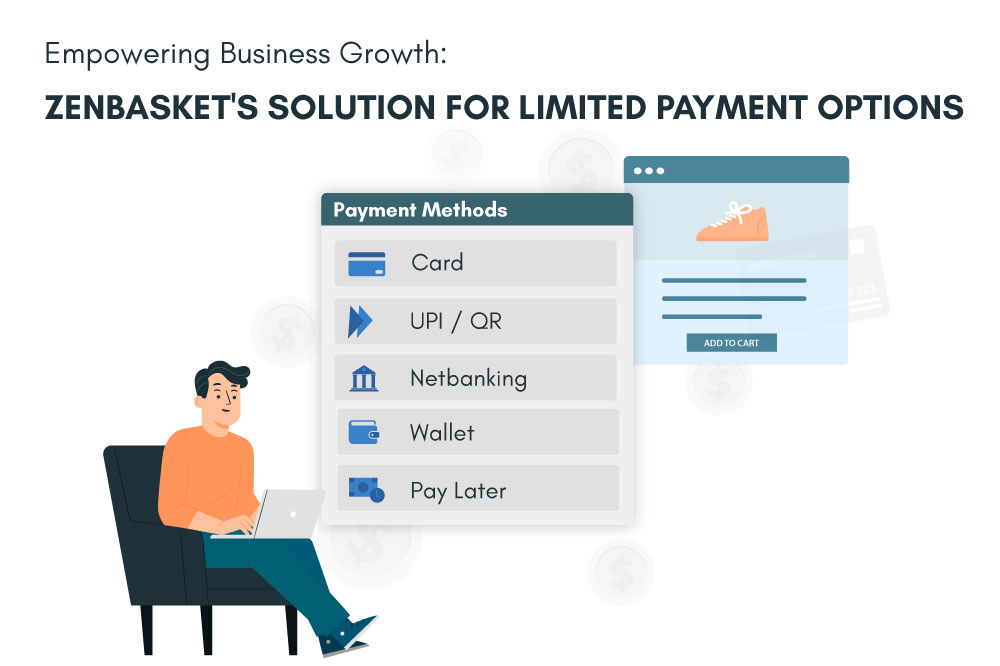 Online payment solutions are imperative for any business as they offer convenience to customers. Being able to offer these solutions ensures your business meets customer expectations and stays competitive. Customers can make online payments using credit or debit cards, entering their card details for processing through a secure payment gateway. A payment gateway acts as the intermediary, securely authorizing and handling the transaction between the customer, merchant, and financial institution. Payment methods may involve QR codes, bank transfers, or Google Pay/Amazon Pay methods by providers like Razorpay or Stripe, all utilizing payment gateways. By offering diverse payment methods with trusted gateways, ZenBasket can provide a seamless and secure checkout experience, building customer trust and increasing successful purchases.
Ecommerce payment processing has challenges, but they can be overcome with the right approach. Customers often face issues, some of them being limited payment options, security issues and problems with integrating payment services. By using ZenBasket these issues can be resolved, improving the payment experience for customers.
Get Your Payment Issues Resolved with ZenBasket
ZenBasket provides some payment solutions that make it easier for customers to pay and improve their overall experience. These solutions are designed to simplify transactions and create a smooth payment process for businesses and customers.
Offer Multiple Payment Modes
Customers like to have options when it comes to making payments. ZenBasket understands this and allows businesses to offer a variety of payment methods to meet individual preferences. When customers want to pay they can choose either cash on delivery or online payment mode which includes methods like credit/debit cards, and net banking by providers like Razorpay or Stripe. ZenBasket seamlessly integrates with trusted payment gateways to offer a wide range of payment options. This ensures a smooth and convenient checkout process that builds trust and increases the percentage of successful purchases.
Storefront view:
The customer can choose the payment modes for the checkout process.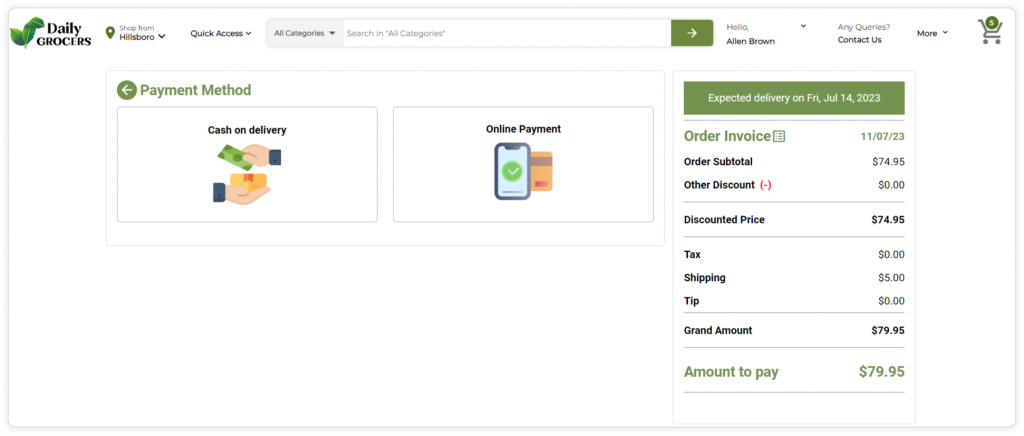 Integrate with payment service providers
If you want to expand your business globally, it's important to consider the specific payment preferences of different regions. ZenBasket makes it easy for you by seamlessly integrating with various payment service providers. This allows you to offer customized payment experiences based on what your customers prefer.
ZenBasket goes the extra mile by catering to the preferences of customers in different regions. For instance, if customers in a particular area opt for Google Pay, ZenBasket enables smooth acceptance of payments through this platform. Additionally, if customers in another region favor specific local payment methods, ZenBasket seamlessly integrates with those providers, ensuring a personalized and tailored payment experience for all customers.
Store admin view:
Customer can integrate from the list of Payment gateways.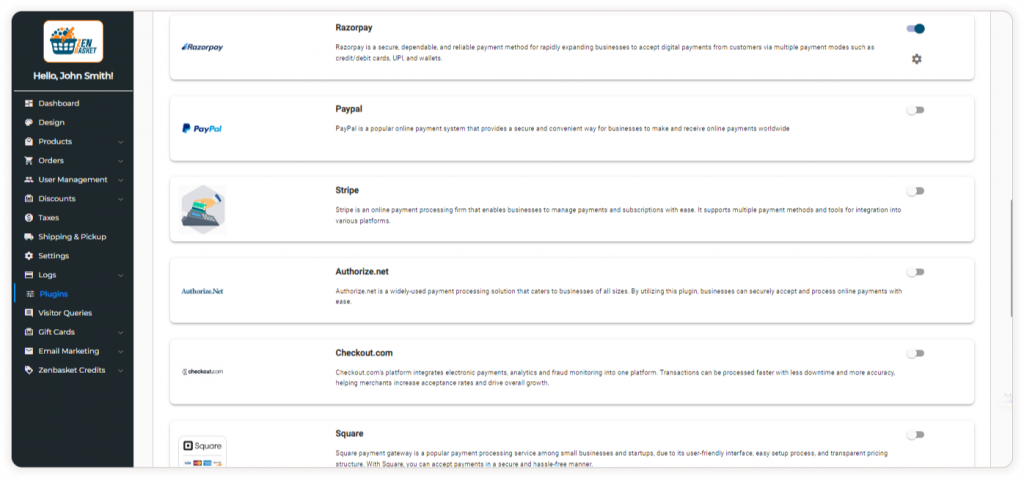 By catering to diverse payment preferences and offering a customized payment experience, you can better serve your global customer base and increase the chances of successful transactions.
Expand payment options
Integrating with top payment gateways is effortless, providing you with a wide range of payment options. This includes popular choices like debit/credit cards, net banking, QR codes, and more, enabling you to accommodate for  specific customer base. Seamlessly integrating these choices into your platform ensures a smooth and convenient payment experience that aligns with customer preferences. Empower your business to provide a hassle-free and tailored payment process.
Storefront view:
Customers can choose payment methods.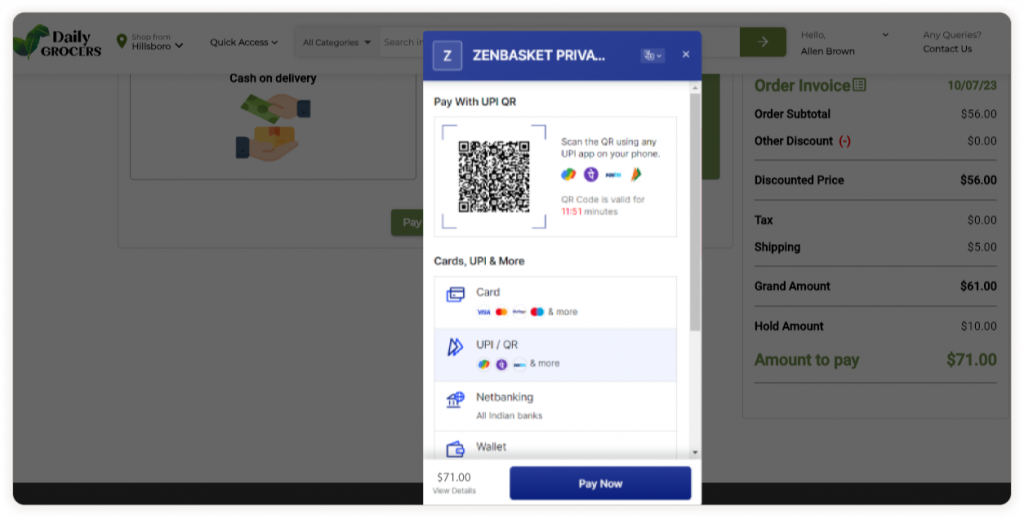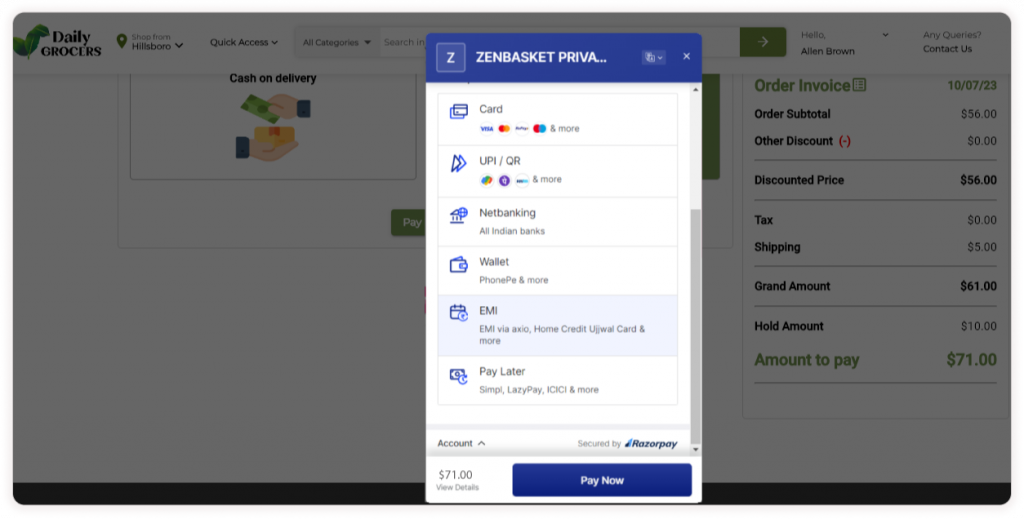 Prioritize Security
At ZenBasket, customer data security is highly important. We use secure payment systems and don't store customer card information. Instead, trusted third-party services quickly retrieve saved account details, making checkout faster, easier and more secure.
This creates a secure payment environment, building trust and confidence in your online store. With ZenBasket, customers can shop with peace of mind, knowing their data is protected, leading to a positive shopping experience.
Conclusion
To succeed in Ecommerce, it's important to offer secure and diverse modes of payment. Customers want a smooth checkout process with trusted payment gateways and various methods to choose from. ZenBasket understands this and provides solutions that simplify transactions and meet your customers preferences. With ZenBasket, businesses can offer multiple payment modes and integrate with reliable payment gateways. By using ZenBasket, businesses can improve the payment experience, gain customer trust, and increase sales.
Centizen
A Leading IT Staffing, Custom Software and SaaS Product Development company founded in 2003. We offer a wide range of scalable, innovative IT Staffing and Software Development Solutions.
Contact Us
USA: +1 (971) 420-1700
Canada: +1 (971) 420-1700
India: +91 86107-03503
Email: contact@centizen.com