Trends in Candidate Sourcing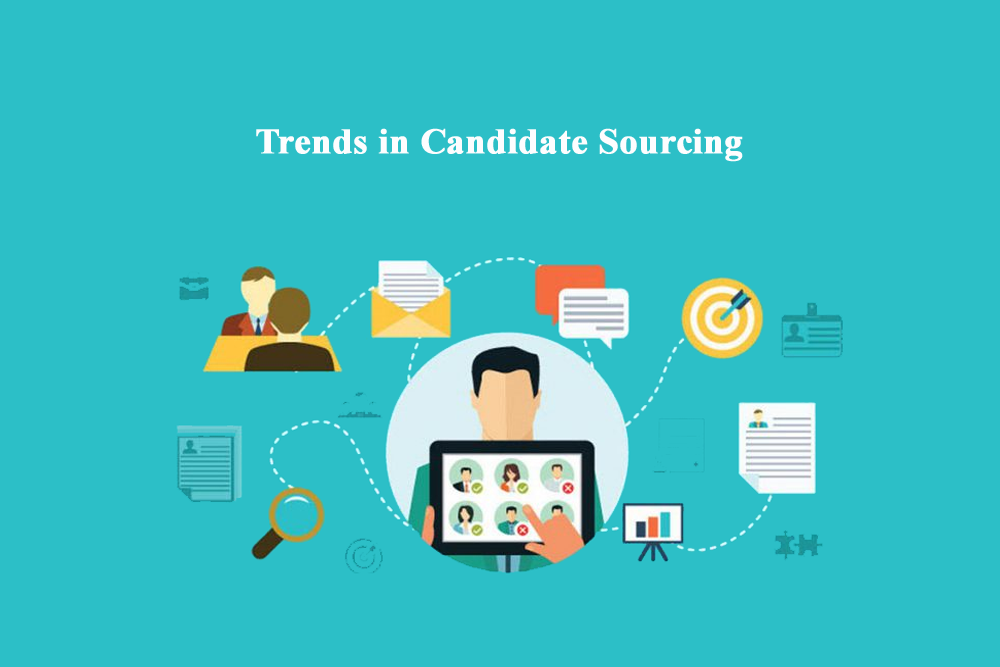 In today's competitive talent market, sourcing candidates is probably the most valuable recruiting skill for anyone concerned about hiring high-quality talent. Finding and hiring effective candidates is one of the toughest jobs. It needs a lot of creative work to hire a candidate. We have to increase the hiring efficiency and make a change in the existing recruitment plan to achieve our goal. The HR and Recruitment team must update the current trends in candidate sourcing.
For that, some of the following effective recruitment trends that will help in improving your recruiting process.
1. Recruitment Marketing
Recruitment Marketing is a combination of strategies and tactics used by an organization to attract and engage job seekers. The main objective of recruitment marketing is to get a candidate to apply to your organization's job openings. With the help of recruitment marketing, we can promote job openings through social media platforms, job portals, email campaigns, or newsletter campaigns.
It helps the organizations to strengthen their employer brand, reach-out the candidates, and optimize their career sites easily.
2. Artificial Intelligence
Manually screening resumes is still the most time-consuming part of recruiting. Screening resumes and shortlisting candidates to interview is estimated to take 23 hours of a recruiter's time for a single hire.
Here, AI for recruiting represents a boon for recruiters if it can successfully automate time-consuming, repetitive tasks such as screening resumes or scheduling interviews with candidates.It helps in efficient candidate-job matching throughout pre-screening, monitoring, and hiring processes using real-time analytics. It saves the recruiters time by automating the high-volume task.
Here, AI for recruiting represents a boon for recruiters if it can successfully automate time-consuming, repetitive tasks such as screeningAI chatbots help in a productive way of collecting a quantity of candidate data to human interactions. It helps in minimizing the human work in recruiting.With the automation process, the Applicant Tracking System (ATS), Crowdsourcing, Referrals, and some other job said applications are working efficiently. The future of recruiters depends on data analysis, pattern recognition, and natural language processing. Technology is certainly making advancements to eliminate manual screening efforts and improve the overall hiring experience.
3.Employer Branding
Employer Branding is one of the current trends in candidate sourcing. The strategy to attract the top talent in an organization and retain them. It also plays a significant role in helping companies to remain competitive and powerful in the business world. It is essential to make them stay and grow for the benefit of the team and the company.
Having an active online presence helps you to increase your brand awareness, which is, in turn, beneficial for your organization. You can demonstrate your company culture and show your candidates how it is to work for your company. Having an effective employer branding strategy not only helps you attract job seekers but also reduces the time required to fill a position.
4. Candidate Experience
Candidate Experience is based on candidates' feelings, behaviors and attitudes they experience during the whole recruiting process, from sourcing and screening to interviewing, hiring, and finally onboarding.
Job seekers nowadays are not only interested in what the company offers but also on what vision it holds and what environment it provides. Delivering a great candidate experience promotes a positive image of the company. In addition to this, you can encourage your candidates to share their positive reviews through a variety of social media platforms. This also helps in creating a consistent company image and promoting a good reputation.
5.Social Media Recruiting
Using social media channels for recruiting the best candidates. The term refers to different ways of using social media networks (such as Facebook, Twitter, LinkedIn, etc.) and websites (blogs, forums, job boards and websites like Glassdoor) to find, attract and hire talent.
Being active in LinkedIn groups and using hashtags are great ways to get your job openings in front of candidates you want to apply. You should also share content that shows your company is a great place to work so you can organically attract candidates.
Recruiters are able to use filters to find potential candidates. For example, you can search by location, current and past company, years of experience, and a number of other factors. You can find candidates who are skilled and will also be a good fit for your workplace.
Moreover, you can save money by using social media recruiting, unless you promote job openings through paid campaigns.
6.Background verification and assessment technology
While earlier employee background verification process was a manual and costly affair, often managed by external agencies. Artificial Intelligence and machine learning promise to make the employee background verification process quicker, smarter, and more effective.
In an age where digital fraud is on the rise and where recruiters spend multiple days on finding the right candidates, it's vital to make use of background screening technology to avoid waste of their valuable time. Also, since the process of background assessment is multi-level, complex, and time-consuming, it makes for a perfect area of AI application.
7.Talent Pool
Talent pool or Candidate Pool is nothing but it's like a database where recruiters and HR Managers keep all of their top job candidates in ATS. It can be grouped based on the candidate's skill or location. Talent pools make not only candidates that have applied for jobs, but also sourced, referred candidates, silver medallists, and candidates that have willingly joined your pool in an inbound way.
The main purpose of this talent pool is, it will save time on sourcing when a new position opens. We can easily choose or sort out a candidate from this. This is the reason why many recruiters have already adopted this recruitment trend and, started building a high-quality candidate database for current and future needs.
8. Go Mobile
According to a study, about 45% of candidates use their phones at least once a day for job hunting. The study also reveals that 16% of job seekers submit their application through their mobile phones.
With Smart Recruiters, you can easily build mobile career pages with your customized branding. Offering an easy mobile application process on your mobile-optimized career site helps you effectively capture quality candidates.
To make the selection process more efficient and effective, you should chat and interact with them on a mobile device. Make this a part of your recruiting strategy and speed up your recruiting process. With the right app, you can work more with your team, reduce your time to hire and improve the candidate experience.
The part of the HR and Recruitment team has to focus on the latest recruitment trends. Implement the right recruitment ideas and optimize to hire quality candidates. It will make you the top position in the recruiting companies.
Centizen
A Leading IT Staffing, Custom Software and SaaS Product Development company founded in 2003. We offer a wide range of scalable, innovative IT Staffing and Software Development Solutions.
Contact Us
USA: +1 (971) 420-1700
Canada: +1 (971) 420-1700
India: +91 86107-03503
Email: contact@centizen.com