Best Remote Management Tools
Up until a few years ago, remote work was considered unreliable and was offered minimum wage; recently with the pandemic threats & collapsing economy, it is becoming a full-time career. As a business, you should manage teams when you are good at what you do back by taking risks and actions whenever required. Your brand may have several teams collaborating effectively under guided leadership. Stay up to date on projects by communicating with them regularly and checking if they have the necessary tools and details to handle the team. This raised questions and challenged credibility, context, reliability but powerful collaboration tools are now empowering people to explore the unexplored as of now. We'll talk about the best remote management tools that manage a remote development team.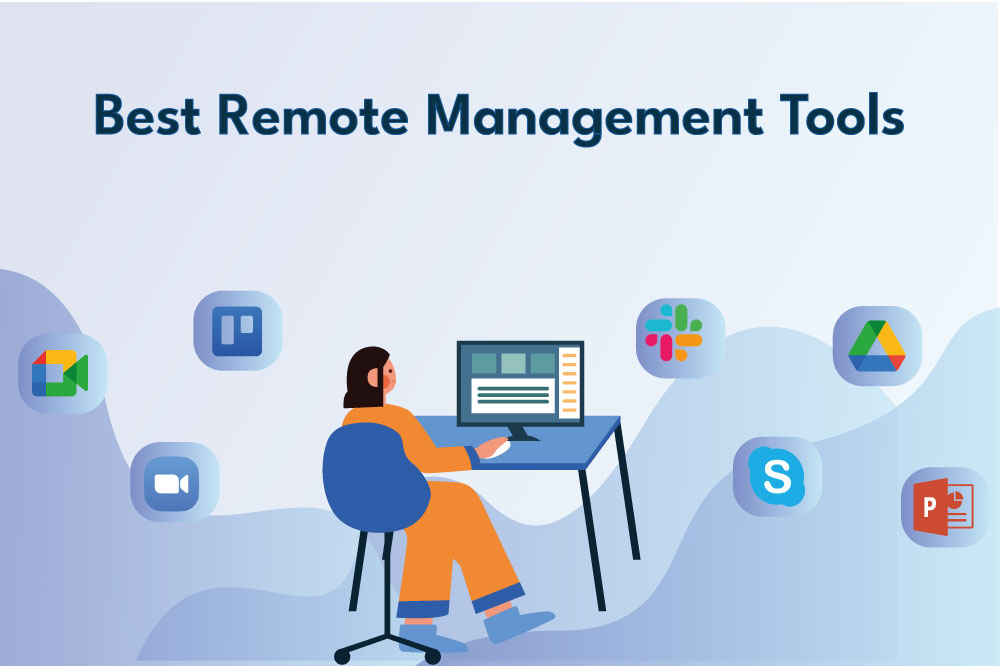 Effective management of Remote Management Teams
Some key points to manage the Offshore development team are,

Explain the project goal and make sure the team is on the same page as you. Context over communication delivers desired results.
Make sure the team works collaboratively to reduce stress and anxiety.
Swap work schedules among the team to overcome time differences.
Maintain and monitor a work log to keep track of the performances.
Have face-to-face chats often during brainstorming sessions to get familiar & understand how your team works out the knots.
WorkSpace for Remote Work Culture
By 2020, the world froze and had to resort to a remote workspace overnight. To cope up and continue with the new normal, organizations had to find a way to strengthen remote performance without compromising user and client experience alike. To navigate this setup without additional issues remote teams had to feel connected and the only way to establish a productive environment is through setting up a flexible, creative remote workspace where teams could understand what was going on with their team members. Google Workspace and Microsoft Workspace are considered as one of the best remote management tools for data handling, FIGJAM for creatives, Zoom by educators, etc made it feasible.

Google Workspace
Google had been an innovating tech leader so when their cloud based workforce formerly known as G-suite was easily integrated to work flows by most tech organisations. Additionally Google specifically renamed it to Google Workspace as they claimed that 'work is no longer a physical place'. Remote employees are working with their employer, clients, teams for discussions, knowledge sharing backed by a strong team culture. Google workspace ensures security, and data privacy integrated with Calendar, Google Docs, Google Sheets, Google meet, Vault, Work insights, etc to collaborate with your team effectively.
Microsoft Workspace
With Remote work implementation, organizations are facing the challenge of finding a reliable way to connect, collaborate and manage their works. Similar to Google workspace, Microsoft's Workspace allows employees to customize My Workspace based on the team's requirements. My workspace features include creating Folders to organize, saving searches, creating a dashboard, etc. Microsoft Workspace collection includes Word, Excel, Outlook, PowerPoint, and OneNote. Microsoft 365 increases the production level and reduces the malware and intrusion risks.
Collaboration Tools
Whether it is for in-house teams or offshore teams, communication is the key for getting the work done effectively. To subdue this issue organizations use mail, chats, video calls, virtual chat rooms and conferences to help the team understand the project very clearly and collaborate effectively. Here are some highly recommended remote management tools to ensure seamless communication between teams.
Slack
Slack is a faster, better organised and secure way to communicate with your team. Slack is a messaging app for business that connects people to the information that they need. By bringing people together to work as a unified team, Slack transforms the way that organisations communicate. Slack enables creating team conversation into projects, teams, and topics. The pricing of slack is $6.67-$12.50/monthly with a free limited option.

Troop messenger
Troop Messenger, an Indian app for professional communication rivals Slack helps businesses to chat, meet, call and collaborate. The platform allows sharing files, audio-video conferencing, and much more. Troop is preferred when privacy is of concern. Since it possesses a low-complexity interface, teams can migrate files between teams, track or monitor the progress for businesses based on multi-locations. The price of troop messenger is up to ₹500 users/month.
Video Conferencing Tools
Whether it is in-house teams or remote teams face to face communication holds value than a text that conveys everything in detail. With video conferencing you can get your teams and clients on the same page as you. Video conferencing platforms are one of the needed remote management tools to provide a collaborative atmosphere between the employees from multiple locations. Since video conferencing performs 30% better in communication and collaboration it's worth investing in a great video conferencing platform for your business. Here we have shortlisted a few tools that have high reputations by top organisations.
Skype
Skype, ahead of its time, is robust and works well for small teams. It is a good way to call and communicate with teams. Skype's business package allows up to 250 team members and the video or audio call can be recorded for future references. Skype is versatile for HD video calling, screen sharing, video call recording, interactive video chats, and location sharing. Since Skype is a Microsoft product you can share data from office apps and services such as MicrosoftTeams, MicrosoftExchange, MicrosoftOneDrive, Microsoft SharePoint, and Web and mobile versions of Word, Excel, and PowerPoint. The skype pricing for business basic is ₹125.00 user/month and Microsoft 365 Business Standard is ₹660.00 user/month.
Zoom
Zoom with its recent fame has quickly become the go to tools by remote teams in the Corporate sector. It allows you to conduct one on one and group meetings with screen sharing, co-hosting, and recording or creating transcripts for meetings are some of the popular features. Zoom has 300+ million active users globally due to its high video quality, unlimited meetings, scheduled calls, host controls, and private or group chats. The pricing starts from $149.90 for 100 participants, with a Free limited plan. You can purchase the plans for up to 1000 interactive audiences and team members based on the organization size.
File-sharing Tools
Following quality communication and face-time, remote team management is always concerned about secure file sharing. File sharing involves any file transfer protocols or files being ripped (ie; copying files to disc) or through mails. Emails are one of the major file-sharing options with limitations on attachments and security. But, to secure file sharing among remote teams, cloud storage is inevitable, with tons of widely accessible apps in the market. Giants and smaller companies offer countless online cloud storage and file-sharing apps to synchronize and lead teams on the right path. We have mentioned the best remote management tools for an effective remote culture.
Google Drive
A cloud storage platform that enables users to save files online with access from multiple locations and features like documents, spreadsheets, presentations to share and secure files in a centralized location. Drive allows files and folders that can be accessed based on permissions. The user who creates a file or folder is recognized as the owner by default and can control the visibility and edit permissions across accounts or transfer ownership using Gmail. It integrates well with first-party or third-party web applications for a seamless customer experience. Google offers 15GB of storage for free and to extend the storage GoogleDrive offers various plans at low cost for both consumer and enterprise versions.

DropBox
Cloud storage plays a pivotal role for development. DropBox runs on a hybrid model, known as Magic Pockets, a custom-built infrastructure equipped with interfaces for easier collaboration regardless of location and device. For a smooth setup and execution, set up a shared folder to distribute files all over the team, or allow access from the web without stuffing them all in one system drive. Dropbox Basic is free with 2Gb storage and if needed can update from basic to business for unlimited storage.
Project Management Tools
Project management is a complex task that requires consistent tracking. Some challenges include visibility, asynchronous collaborations that have demanded remote teams to rethink how remote management tools help manage and monitor to yield maximum productivity.
Basecamp
Basecamp is a popular project management tool designed favored by large teams to organize, track, and collaborate tasks. Basecamp aims to make collaboration, management and team communication on the same platform with a To-do list and Message boards. To convey information, basecamp has a chat room that can be scheduled. Basecamp has a minimal clean interface with some limitations like no archive contents, and the team hierarchy will be forced to look after other alternatives.
Trello
Trello is a simple form that can be used by small teams with little to no technical experience. Trello is a cloud-based Project management platform, easy-to-use with visually intuitive Kanban Technology based list-making tools. Trello Dashboards are made up of Trello Cards that list the teams' tasks and ideas. To keep track of Trello cards, use the List inbuilt in Trello. Trello Dashboards, allows you to view all the information about a specific item with a view limit of 10 boards at a time. Trello comes with no-code automation to integrate top work tools to manage, organize and build team spirit all in one place.
Time management tools
To stay organized amidst a tight schedule and to manage a team effectively time management is how a manager allows teams to get work done. When you schedule and organize tasks for team members across the same time. In the process of building a team with good management, ethics and organization remote team hours are tracked to calculate how much time their team members are spending to gain productivity and customer insights to ensure that remote teams are working optimally. Here is a quick overview of the best time management tools in the market.

Time Doctor

Time Doctor is the best remote time tracking tool to record and maintain the time spent on each activity through screenshots captured at a particular interval of time. To empower employees to increase productivity, TimeDoctor provides detailed analytics of Time spent on each task with quantifiable data which accounts for time worked on different projects, tools, and apps. With a 15 days free trial, Time Doctor Price ranges from $7-$20 per month.
ProofHub

ProofHub delivers all tools under one roof to efficiently track and manage time, tasks, reports and file proofing, and much more both automatically and manually using timers. ProofHub is already there among 85,000 teams and businesses worldwide with notable clients like Netflix, Google, Walt Disney to simplify the deadlines and deliverables management. For greater flexibility, Proofhub syncs with external apps like Google calendar, iCal to customize the feel and look to suit your preferences. Through steady boards, workflows, time tracking, and proofing boost team members' productivity to track the progress on the go. ProofHub has both Ultimate and Essential Control Plan for $89/month and $45/month respectively for unlimited users. Proofhub is widely accepted and is awarded for its features and performance stand as an example. For excellent collaboration and standout features, businesses prefer Proofhub to be an alternative option.
Final Thoughts
To conclude, with time and technology advancing, each project with the right set of tools can help achieve best outcomes. This article was written with the aim to give an abstract idea on top tools preferred and used in the IT sector. However, experimenting with the right tools in the right circumstances helps understand what might work for you.