Team-Building Exercises for Remote Teams
In-house teams spend hours together sharing the same space, rushing to the same meetings, brainstorming, overtime during deadlines, sharing responsibilities, overcoming conflicts, team dinners, shared coffee breaks, etc. This helps teams build a strong rapport on common ground among team members, the experiences they share that are nurtured through empathy and shared emotional intelligence. Now, as businesses have transitioned from in-house work culture to remote work culture, the common question is how teams are maintaining the same rapport when separated by locations and different time zones? Well, thanks to technology! There are a lot of virtual team building exercises that can help Remote teams to build trust, create engagements that lets the team connect with each other. When the team members get along, everyone is happy to lend a hand whenever one of them is in trouble. A well-bonded team excels target productivity and overall results.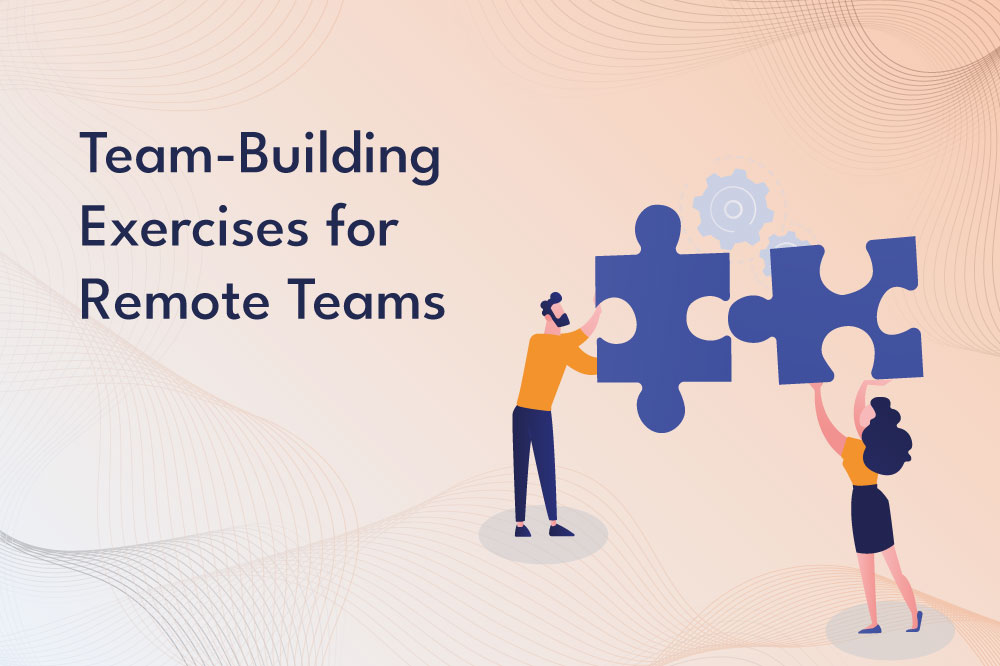 Key Benefits of Remote Team Building Exercises
Working remotely can make one feel isolated and lonely. When team members have a good bonding between them they feel empowered and have people to turn to during adversities.
Helps build a strong company culture that in turn improves team communication.
Creates a sense of togetherness that improves employees' mental health and well being.
Team bonding helps the team to complement each other at work since each of them know their strengths and weaknesses. This results in better collaboration.
Let's look at some practical Team building Exercises for Remote teams
1. Socialize over an unofficial group chat
All the teams may have a number of official groups in Skype, Teams, Zoom etc to collaborate on anything related to work. But getting to know the team members beyond working hours helps the team to know each other better. These groups can be used to wish each other on their birthdays, anniversaries etc. They can also share pictures of their outings, their pets, or anything exciting. Commenting on pictures and having a non-work related chat about them will create a bond among team members. It may also help them understand what's going on in each other's lives.
2. Virtual Ice breakers
Virtual icebreaker questions and activities can be used to know your peers better. A number of questions can be prepared which would be asked to each employee over a video call. Each person would be given some timeframe to share their concerns. The questions could be simple. Some examples are:
How long have you worked from home?
Work-from-home or Office?
On a scale of 1-10, how good are you at remote work?
Coffee or tea?
Your best vacation spot?
Which aspect of your personality do you value the most?
3. Remote workshops and learning sessions
Teams can be brought together over workshops that are fun and interesting. It may be on topics that are not related to the professional world. It may include DIY, cooking activities, painting, learning new languages etc. Make sure the topics are chosen based on the interests of the team members. It is not necessary that everyone attends every workshop. It may be left on the members' choices. These workshops should be aimed to create a feeling of oneness. You can also collaborate with websites that provide various webinars or fun activities for remote teams. Virtual book clubs and virtual workout sessions are other options of remote team building exercises.

4. Online games
Playing games with your remote team members may help them collaborate and engage them better. Here are some suggestions:
2 truth and 1 lie- Each member may be asked to tell 2 truths and a lie. Now, other members must find which one is the lie.
Draw a picture- a picture can be drawn based on the suggestions of the team members and finally see how close it is to the original.
Bingo – It is a common game that is a whole lot of fun.
Charades-One person has to describe an object or topic using signs and others have to find out.
Friendly challenges-Example: Fitness challenge
5. Meeting coworkers through virtual coffee sessions/Lunch or Dinner
Remote teams may be made to meet casually over a conference call on a tea/coffee break or dinner. The idea is to recreate the in-office coffee breaks where employees bond over shared interests and thoughts. Normal teams meet over dinners after work to bond personally. But remote teams cannot meet their team members in person. So a virtual lunch or dinner can help them discuss their families or personal likings over video calls. Each member can prepare or order something special, dress up, and join a video conference to have a quality time with their co-workers. You can make it more special by surprising your team members with a surprise food delivery.
6. Live remote co-working
In a physical office, people login and start working. They can see their teammates by their side. It gives them a sense of belonging, accountability and focus. This can be recreated virtually over a video call. The team members can log in and join in the video call. They can see their team members in person and have casual conversations just like they do in the office environment. This will help build true connections and hence improve company culture.
Final Thoughts
Like physical offices, remote teams do not spend quality time with their teammates over coffee breaks or dinners. They have a hard time to feel connected to their colleagues or the company. It is the need of the hour to encourage team bonding that will enable them to combine their strengths and talents for the betterment of the company. So it is high time you invest in remote team building exercises to create happy, engaged and productive remote teams.
Centizen
A Leading IT Staffing, Custom Software and SaaS Product Development company founded in 2003. We offer a wide range of scalable, innovative IT Staffing and Software Development Solutions.
Contact Us
USA: +1 (971) 420-1700
Canada: +1 (971) 420-1700
India: +91 86107-03503
Email: contact@centizen.com