True Cost of Hiring developers – India Vs other Countries
By 2021, The development costs of the IT outsourcing industry are set to exceed 359 billion dollars. As of present, there are hundreds of outsourcing centers throughout the world, each focusing on distinct characteristics such as cultural and linguistic compatibility, political scene, and so on. Keeping this in mind, the increased demand for software talents, and the means to reach out to offshore teams rather than being a modern approach has become a necessity to meet such demands.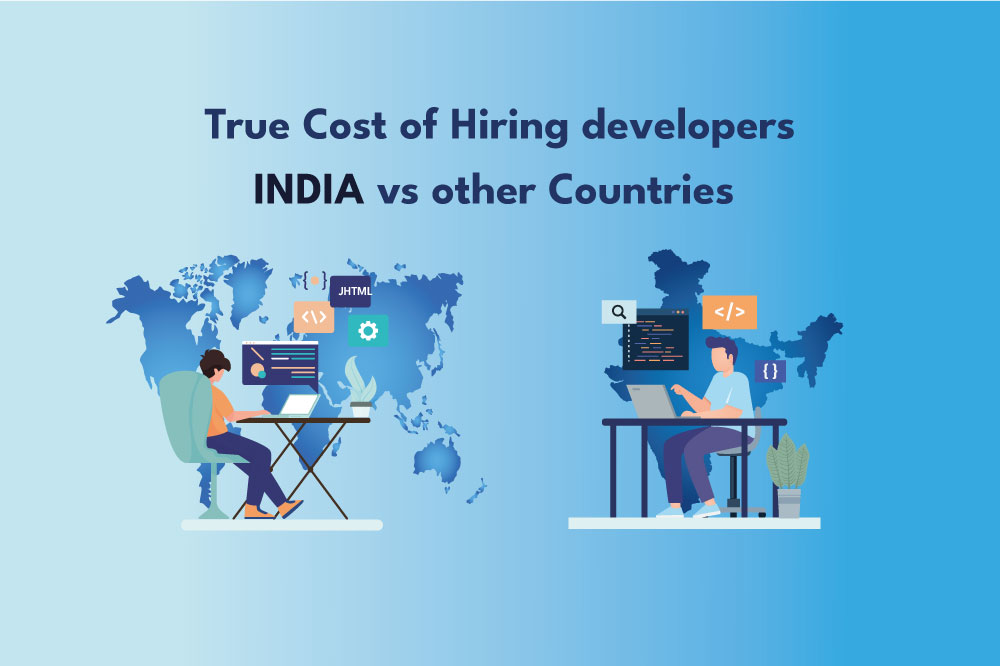 Cost of hiring developers in the US, UK, Germany, Netherlands VS India
Hiring developers in the US, UK, Germany, and Netherlands inclusive of taxes is as follows.
In the US, a mid-level developer's payscale is around $1,57,575.
In the UK, the cost of hiring developers is around $82,200.
In Germany, the developer cost is around $97,400.
In the Netherlands, the cost of hiring a developer is $95,671.
In India, the cost of hiring developers with Centizen Talent Hub will cost $13,160 – $26,400.
The estimated amount includes the developer cost, tax fee, and Centizen fee. And so, no extra time is needed to analyze the tax system of India.
| | US | UK | Germany | Netherlands | India with Centizen |
| --- | --- | --- | --- | --- | --- |
| Annual gross salary including taxes | $1,57,575 | $82,200 | $97,400 | $95,671 | $40,000 |
Cost of Hiring developers in the US, including taxes
The United States delivers the most expensive offshore developers, as it is home to influential tech giants like Google, Amazon, Apple. To get an in-depth knowledge, a software developer from the metropolitan San Francisco Bay Area, with mid-level skills will cost you around $157,573. On average, hiring software developers will cost $140K-$175K/year, including taxes and benefits. So, the whole hiring inclusive of all comprises 70% of net salary and 30% of taxes and benefits based on the varying tax rates in the US. The Internal Revenue Service(IRS) supervises the employer's payments with additional charges like federal withholdings, worker's compensation along with pivotal charges like
Supplemental Wages – 3.2%
Insurance – 8%
Annual Leave – 7.1%
Pension and Savings – 3.8%
Legal Benefits – 7.6%
Cost of Hiring UK software developers including taxes
The UK is a world leader in producing tech giants followed by the US and China. The UK is home to more than 77 technical companies valued at over 1 billion dollars. The UK developers are the second most expensive hires based on their expenses, benefits and taxes. Focusing more on tax, the after-tax annual developer cost is enormously overpriced than the actual net salary. 35% of the annual salary comprises taxes, Insurance, and other legal costs. Looking out for a region, In London, the Cost of Hiring developers for mid-level engineers will cost $82,220, and the cost structure has 20% of Income Tax, 12% of Insurance, and 3% of Pension amount. Exceptionally, UK employees have the right to a tax-free allowance of $14,100, i.e excluded from the annual income.
Cost of Hiring German software developers including taxes
With cutting-edge technology, Germany is one of the software markets toppers and ranks second in setting up tech industries in Europe. Amidst the pandemic, Germany's IT revenue has a steep increase to almost $107,188,975 in 2020. And so, developers demand high pay despite the low cost of living. Hiring German software developers costs between $79,500 – $91,200 per year inclusive of taxes. Approximately, 44.8% of developer costs consist of taxes and insurance that need to be paid by an employer. The tax structure of Germany includes Personal Income tax for 14%, Pension Insurance 9.3%, health insurance 7.3%, accident insurance 1.25%, church tax 9%, and many such taxes based on age, location, etc. Depending on the marital or civil status, German employees have a right to a tax-free allowance minimum of $10,610. On the whole, Germany has 30 types of taxes that vary between 14%-42% of the taxable income.
Cost of Hiring Netherlands software developers including taxes
The Netherlands has around 60% of IT industries on the Forbes 2000 list, including Cisco, Oracle, Google, etc. Netherlands is responsible for generating job opportunities, attracting new talents and is considered Europe's favored tech spot. Including taxes, hiring a junior software developer costs $53,260, a Mid-level software developer costs $89,811, and for an experienced software developer, you have to pay around $101,135 per annum. The Netherlands has 3 tax boxes, each covers specific criteria. The tax account includes pension funds of 5% with a holiday allowance of 8%. The tax rates vary upon the annual salaries, like 37.35% for salaries up to $77,540, and those who receive much higher pay have a tax rate of 49.5%. To attract outsiders of the EU, the Netherlands fosters 30% of the number of their annual salaries as the tax-free amount. But, this rule is applicable only for employees with at least $42,720. This implies that there is a shortage of local talents in the Netherlands.
Cost of hiring Indian offshore developers – Centizen Talent Hub
In 2021, India is considered one of the most reliable outsourcing countries and contributes 8% of India's GDP. 65% of outsourced jobs are held by India, and the percentage is still rising. With the rising percentage, 57% of the businesspersons believe, recruiting Indian developers has helped achieve their goals efficiently. Well, these Stats are more than enough to prove how profitable hiring an Indian offshore developer isCentizen Talent Hub is an offshore recruitment firm that actively recruits Indian offshore developers through the dedicated Team model. With Centizen Talent Hub, hiring
Junior level software developer – $13,105.
Mid-Level software developer – $26,290.
Senior-level Software developer – $39,440.
Apart from the developer fee and Centizen Talent Hub fee, no additional charges are associated when you set up a team with Centizen Talent Hub. Centizen Talent Hub also provides replacements for considerable reasons.
Final Thoughts
Working offshore still to-date is not acceptable by every firm and raises concerns. In addition, hiring offshore development teams their costs are determined by experience, background, location, living expenses, taxes and benefits. Comparing the topmost hiring platforms expenditure, the Cost of Hiring developers in India is comparatively low to the US, UK, Germany, and the Netherlands. And that's why Centizen Talent Hub hires Indian offshore developers for a vast pool of qualified teams at moderate prices. Thus, we'll save your money with the guaranteed high-quality-end developer to develop world-class products.
Centizen
A Leading IT Staffing, Custom Software and SaaS Product Development company founded in 2003. We offer a wide range of scalable, innovative IT Staffing and Software Development Solutions.
Contact Us
USA: +1 (971) 420-1700
Canada: +1 (971) 420-1700
India: +91 86107-03503
Email: contact@centizen.com