How pre-vetted candidates are minimising recruitment costs for organisations

Recruiters around the world are on an endless hunt for the 'Top Candidates'. However, in this post-pandemic where remote jobs are now a thing, hiring candidates for both In-house and Remote teams was. With the Work From Home culture coming into the frame, companies no longer shy away from hiring remote talents across the globe. But the million-dollar question is 'Which one of these hiring methods is more cost-effective?' This blog will walk you through some of the ways to lower recruitment costs, compare in-house hiring and pre-vetted hiring and which hiring method would be the best fit.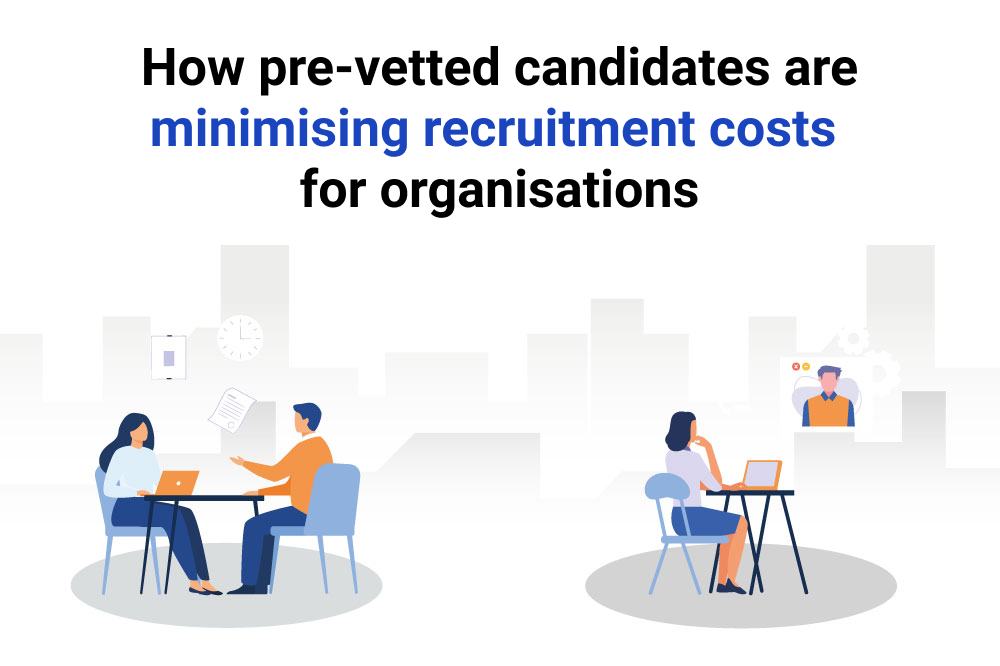 Ways to Lower Recruitment Costs
Optimize your company career portal
The recruitment costs and the hiring time can be reduced with clear information about the job role. A career portal must have content that is relevant which includes salary, benefits, job roles, responsibilities, information about the company, company's vision, etc. In order to optimize your company site:

Make sure job seekers find it easy to locate the careers page on your company website
Build a mobile-friendly career site. A clear CTA for easy access to the job application page.
Provide links to your social media pages so that passive job seekers can keep in touch.
Recruit via Social Media
Posting jobs on major job boards may cost as much as $400, but the reach is not as much as on social media sites. As Millenials and GenZs are more active on social media, posting job requirements on such platforms reduces the recruitment costs and reaches more remote job seekers. Facebook and Instagram for instance allow businesses to post ads to promote their brand. Promotions can include videos, blog posts, infographics, how-to guides, etc. which may attract your dream candidates. These channels could also be used to post ads for open job positions that would attract some of the high-quality talents and followers of your brand profiles. Job posts can be in the form of attractive posters with appropriate links leading to the career page of the company website.
Tapping into internal talent pools and employee referrals
Most companies look outside their base when they need to fill top positions. Due to this, the in-house talents are underutilized. Instead, companies can promote employees who are already working in their organization. Existing employees are well aware of the company's environmental practices and day-to-day demands. Since they are aware of the company culture and departmental demands, they would blend into the new position with trivial friction. This can bring in more candidates who would be the best cultural fit for the company and hence improve employee retention. They also will be able to use all the knowledge they have gathered over the years to work for the higher position which saves the recruitment costs and hiring time of the company.
Create strategies to reduce employee turnover

By promoting existing employees to higher positions, they can be retained for longer periods of time. This will in turn save recruitment costs in the long run. So it is important to keep the existing employees under the radar by continually monitoring their future goals and preferences. Those employees who want to rise to higher positions in the company may be provided a chance. This would surely reduce the employee turnover rates.
Use digital interview to minimise recruitment costs
Hiring costs can be reduced to an extent by leveraging technology for the purpose of hiring. Digital interviewing can be done through career portals, mobile recruiting, online assessments, recruitment through social media, etc. To identify candidates, companies may make use of social media pages like Twitter, LinkedIn, Facebook, and Instagram. Job requirements can be posted on social media platforms. Digital Interviews could be either one-way or two-way. One-way interviews provide the candidates with some predetermined questions which can be answered and recorded by the candidates. These responses are sent to the companies where recruiters can evaluate on their own time. Two-way interviews are conducted live over video calls. Conducting interviews digitally can save a lot of time and costs for the company since the HR team need not involve seniors and schedule interviews for days.
In-house recruitment Vs Third-party recruitment
Cost
When in-house recruitment is chosen, the costs may include Application tracking system costs and salary for the HR department. When a third-party recruitment partner is chosen, costs will include the agency fee which will be included in the candidates' salary.
Quality of candidates
When companies hire local talents, the quality of candidates can be easily assessed during direct interviews. With remote hiring, Talents go through a series of assessments like screening, technical assessment, background checks, communication skills, etc. Only a few candidates will make it to the final round. So the talents that are hired through talent acquisition platforms belong to the topmost skilled candidates.
Time
In-house hiring may include screening process, interviewing, background checks, onboarding process which is all time-consuming. But in remote hiring, the HR team searches through multiple platforms and checks their talent before hiring. If an organisation invests in a Remote Hiring Company, they will analyse the job request, source the pre-vetted talents and provide the best match for the role. So the time to fill a role is comparatively less.
Talent Pool
With in-house hiring, there is a lot of competition among the top companies to hire top-notch talents from nearby locations. So when senior specialists are required, companies need to face talent shortages. But in remote hiring mode, companies can hire talents beyond the borders. So companies get access to a near-infinite reservoir of candidates.

Work interruption
With local teams, there may be many causes for delays in work like unexpected sick leaves, vacations, and layoffs. With remote teams, members are focused on delivering the project within the deadline. So, even if remote hires tend to leave the company for unknown reasons, talent acquisition partners would provide a replacement so that work doesn't get disrupted at any cost.
Which one to choose?
Having given all the pros and cons of in-house hiring and pre-vetted hiring, now it's time to decide which one to opt for. Choosing any one of the hiring types won't help reduce the recruitment costs, but striking a perfect balance between the two will. It is better to opt for in-house hiring when top management positions are to be filled and cultural fit is your top priority. If you want to find the right candidate for the job position you can find the talent from remote hiring solution partners. Pre-vetted talents are highly useful when you are about to scale your business and want to fill multiple positions with fewer recruitment costs.

Final Thoughts
Having an in-house team or a remote team, both come with their own pros and cons. The success lies in choosing the right team based on the project scope and duration, the budget, and the current requirements of a business. The responsibility lies on the shoulders of the recruiters to analyze the requirements and decide on what kind of team is to be brought on board. This can be made possible if their HR team works hand in hand with a talent acquisition team. At Centizen Talent Hub, our staffing team will search for the perfect fit for your company by actively hiring experts based on your job requirement with lower recruitment costs. All you have to do is tell us your requirements and watch our team match you with the best technical talent.