A one-stop medical application – Case Study
With newer technologies & trends popping every day we humans too have become more reliant on these gadgets. Setting aside the debate of whether it is good or bad, technology certainly has made an evolutionary impact in health care. Adding to the list is Centizen's health care application with the aim to provide a crisp organized way to schedule and track appointments and medical history.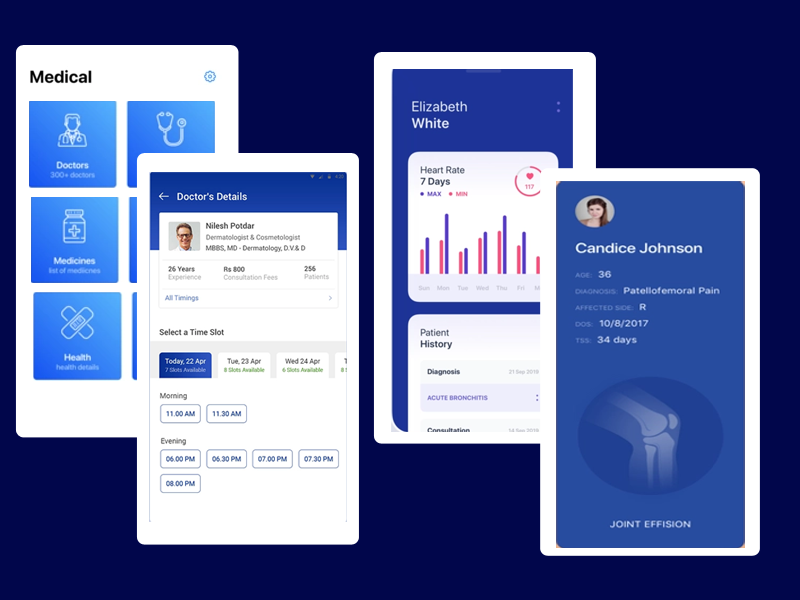 An US medical centre manages a scheduling system for its doctors and patients. They handle schedules based on a doctor's availability and visits of the patients manually. The doctors and the health professionals exchange information directly through in-person meeting. However this caused delay for obtaining reports or transferring a patient to another doctor.
Our client required simple-to-use application and informative application that will be beneficial for both medical personnel and patients.

The application should support out-patient management from Doctor Discovery, Appointments, Scheduled or rescheduled, Billing, EMR, and Prescription(past & present) on mobile. The application needed to handle and manage thousands of profiles doctors, nurses, staffs and patients.

Communication between the doctors or professionals and patients was a priority. The app replaced manual inventory management through automation which reduced the administrative workload drastically.

Lab management included Custom Reports, Smart notifications, Credit Settlement and detailed reports.

The Pharmacy Management handled stock inventory, Prescription Integration, Ward Request, Stock Management and intelligent reports.

The application also has Integrated Billing with corresponding treatments, Lab and Radiology, Discount alerts, Automatic Due deduction, Option to the bill before or after consultation.

The app should include configurable templates for reports with customisable options for name, gender, age etc., The templates are aimed to cut down time spent by professionals on a specific task. Auto abnormal alerts, Formula based result and medical History in a chart representation are included.
A robust, reliable application with a scalable architecture was developed.

A Medical application with online cloud-based access that manages an entire Hospital's Operation made things more easy and accessible to everyone. MySQL database was used for storing and accessing large volumes of data.

Angular Schedular, allows users to schedule, manage their appointments and visits. Integrated with Google Calendar, the user can set reminders for appointments.

The in-built Chat window that helps patients to communicate with their doctors and staffs about their symptoms.

Lab technicians can email their reports to the doctors or patients and can track all referred out tests with their current status.

The Pharmacy Management feature improves overall efficiency and ensures reagents are available when needed, for:

Real-time views

Product/Order tracking

Three-step supply reordering

The application uses Stripe payment service that manages and on spot bills supported by automatic billing for rooms, lab tests and other charges.

The application provides a detailed report on Current Stock, Product based Margins, Manual Stock Adjustments, Edited Sale Bills, Created Indents, Discounted Bills, Pharmacy Net collection in a visual graph representations.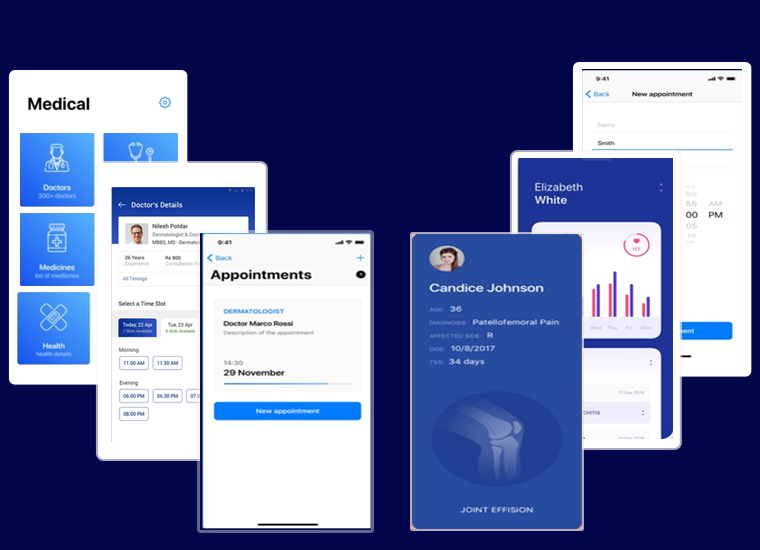 Inventory & Billing Management
As the inventory is automated there are features that lets you know when a stock runs low. Doing things manually may put this in jeopardy. The Billing system is thorough so that you don't miss out details. With visual representation of patient charts and history, a doctor can be thorough before treating them.
Effectual Communication
As the app has features that lets you communicate with your physicians and patients, emergency situations can be reduced deliberately. Patients/Doctors can reschedule appointments and be notified of it before-hand.
On-time treatment
As a doctor can access medical and lab reports instantly from a patient's first visit, this ensures on-time treatment.
Centizen
A Leading IT Staffing, Custom Software and SaaS Product Development company founded in 2003. We offer a wide range of scalable, innovative IT Staffing and Software Development Solutions.
Contact Us
USA: +1 (971) 420-1700
Canada: +1 (971) 420-1700
India: +91 86107-03503
Email: contact@centizen.com