AI Powered Recruitment – CENRECRUIT 
With the ever-growing job demands and the need to meet the requirements of job portals growing exponentially to meet these. You may need to check multiple portals before finding the apt fit for your organization. Wouldn't it be great if you could save a potential candidate or look out for the apt fit by including all the requirements for a post? Find, interview or hire candidates on a contemporary single platform.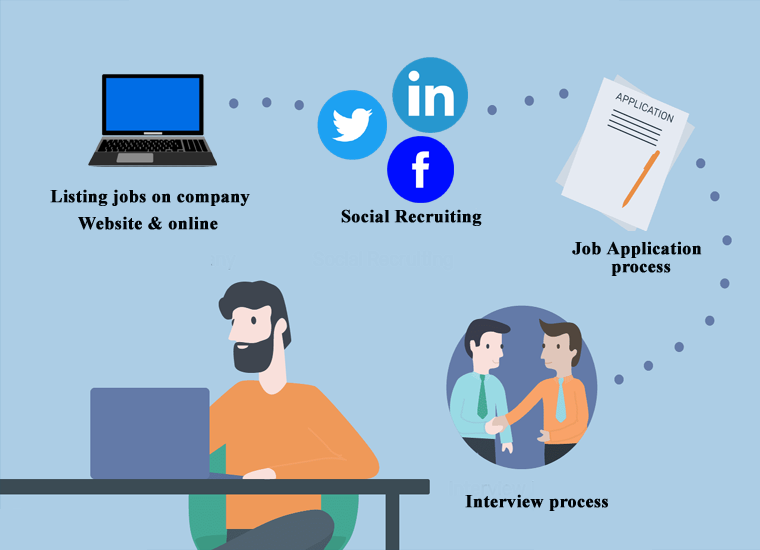 A leading recruiting company was interested in creating an application that would help recruiting companies finding the apt fit for their roles. They needed an application that would reduce recruiters burden by reviewing and extracting info from candidate résumé and identifying the right candidate for a specified job role.
Searching a candidate based on requirements from various job portals and storing them in repositories can be time-consuming and hard. Searching a candidate from the bulk of records takes time and might not be perfect for all times. Recruiters may wish to filter candidates based on diverse criteria. The conventional platform doesn't support more than one requirement when searching for a candidate. The second most time-consuming process for a recruiter is sorting the jobs and entering them manually to a system.
Recruiters might miss a crucial requirement while hiring a new candidate. Recruiters should assign candidates for existing job posts based on their skillset and experience. Again doing things manually doesn't guarantee expected results.
Interview scheduling requires more attention in the hiring process. A careless schedule can hinder both the interviewer and interviewee's plans. Also, there is a chance to show up unprepared or forget a scheduled task. Employment test is a best practice to filter candidates based on skillset. While conducting tests manually, there are many requirements from hall allocation, invigilators, evaluation of answer sheets and recording scores. Submitting candidate details to a client through mail requires manual work to type the shortlisted results as text messages. It might be a repetitive process and requires a different set of details about candidates.
Centizen created an AI Powered Recruitment application that allows you to extract candidate details from résumé using Natural Language Processing. It reduces manual entry, in addition, fetches skill sets from résumé.
Candidates can be filtered effectively based on various criteria by using field-level search, Full Text Search and Boolean search options with various combination of criterion, tags and bookmarks. Job orders can be collected using bulk import for reducing manual effort. Jobs posted for a company could be automatically published through the Recruiters own career portals and various career-focused sites, through which candidates can apply for themselves. Auto suggesting candidates for selected job orders based on matching skill set, experience, qualification, etc with relevance and ranking. Through which the manual searching process will be optimized.
Schedules can be created for interviews and tasks in the calendar. The new schedules should be checked against existing schedules for avoiding a collision. A portal for conducting online examination was created, which allows adding customized templates with a set of questions. These templates can be assigned to a candidate for conducting an examination. The application also provides customisable and reusable templates to collect details of the selected candidates for clients.
A holistic platform for recruiters & job seekers.

Easy record transfer cuts down significant time with increased precision.

Calendered schedules with periodic reminders serve excellent to keep you on track.
Centizen
A Leading IT Staffing, Custom Software and SaaS Product Development company founded in 2003. We offer a wide range of scalable, innovative IT Staffing and Software Development Solutions.
Contact Us
USA: +1 (971) 420-1700
Canada: +1 (971) 420-1700
India: +91 86107-03503
Email: contact@centizen.com