Tableau Improves Sales Performance for a Global Leader in Footwear Manufacturing
A global leader in footwear manufacturing concern needs an instant visibility of the chemicals used in the manufacturing of its entire footwear products around the world. This paves the way for an interactive visual analysis and reporting framework, which can be discussed among manifold teams spread worldwide, to gain insights and build rapid decisions.
Since separate reports had to be prepared manually for diverse groups, the analysis time was significantly increased which results in delayed production decisions. It took almost 15 days to prepare a report, thereby slowdowns the overall production performance.
The reports were manually prepared for every user group using unprocessed data which were presented in basic, numerical terms. This made the reports extremely elusive and tricky to understand.
Sharing information with large groups within the organization is a challenge. A safe and sound reporting platform is required to monitor access and ensure protection of the information being used. Barely a few users could access the analytics reports. Thus, a reporting platform was obligatory to enable accessibility and sharing of the advanced analytics with end-users.
Delayed Business Decisions
Ultimately, the static workbooks and spreadsheets, lacks secure access to analytics content, and problems of the current reporting practices led to delayed production decisions.
Centizen has created Tableau dashboards to express pertinent information in a consistent crisp and interactive manner. Our enriched dashboards could be interactively explored to acquire summarized information while discover vital minutiae and added insights. Tableau dashboards facilitate the users to find connections among incongruent information and graphical representation enables the client's teams to put data in viewpoint.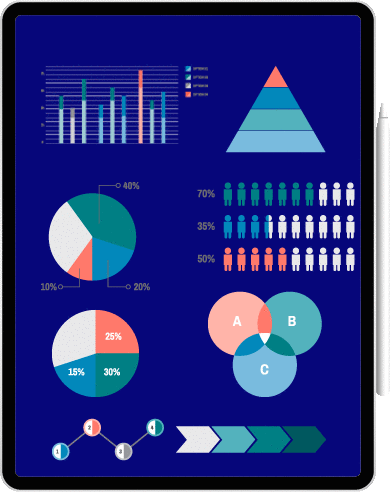 Using Tableau dashboards Centizen delivers twice the analysis in short duration aiding quicker decision making. From our dashboards the clients enjoys the quicker business decisions, turnaround time, Improved Sharing and Collaboration and progress in productivity.
The key features of tableau are:
Development turnaround time is much faster.

Look and feel of the charts is excellent.

User Interactive features selectors, Geo Map, Parameters, Sliders are good.
Centizen
A Leading IT Staffing, Custom Software and SaaS Product Development company founded in 2003. We offer a wide range of scalable, innovative IT Staffing and Software Development Solutions.
Contact Us
USA: +1 (971) 420-1700
Canada: +1 (971) 420-1700
India: +91 86107-03503
Email: contact@centizen.com