Reasons to hire Indian Developers
Employees are solely responsible for an organization's success. Professionals, in addition to effective strategy, play a critical role in gaining a competitive advantage and making a company stand out. Many Tech solutions choose to hire competent developers for a strong technological foundation in order to stay on top. So, enterprises are willing to spend money to hire skilled Indian developers, a smart decision that is both cost effective and . However, finding the right expertise for your workforce is difficult, so they choose outsourcing partners. The outsourcing team searches for, identifies, and hires the best developer for the task. Due to their minimal service charge, strong tech abilities, and devotion to their job, many corporations and outsourcing platforms are keeping an eye on Indian developers. This article clarifies why corporations prefer hiring Indian developers over others.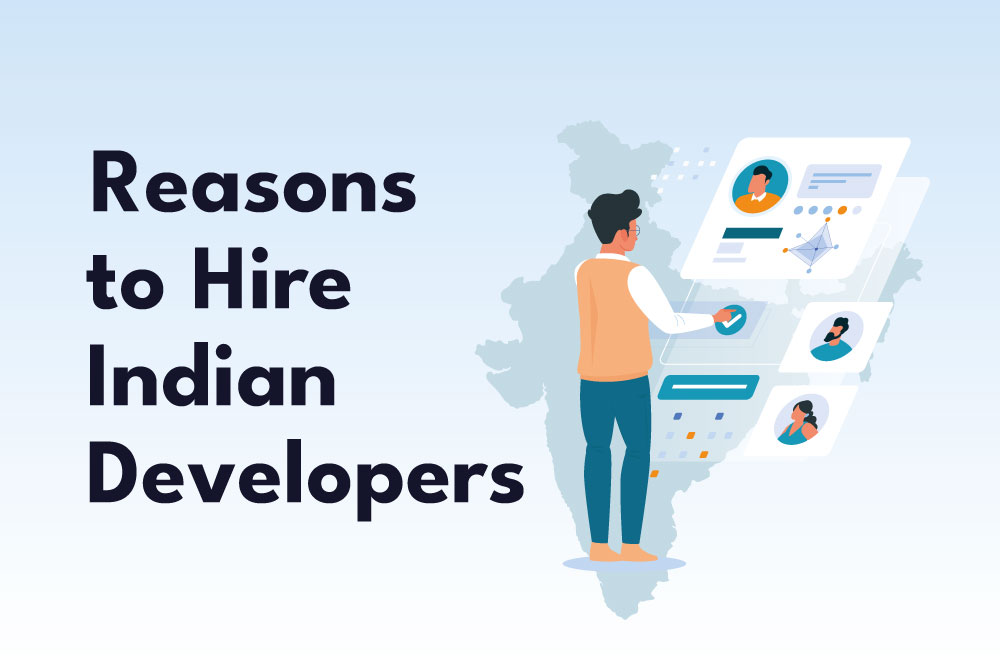 Reason Behing Hiring Indian Developers
1. On the same page – Context & Communication
Companies prefer multi-language speaking employees especially developers who work directly with clients. But English is the common language used by every professional and organization that feels it is more convenient to speak with international clients. India is the second-largest English-speaking country in the world after the USA. Many IT companies already adopted a global mindset where language, location or culture is no longer a barrier when hiring Indian developers. In India over 194 million speak English and India stresses a lot in English language education from Kindergarten, this is also one of the plus points that the future developers are also going to be well prepared.
2. Resourcefulness & Prompt Delivery
Majority of startups and companies struggle about two things: managing expenses and hiring right people. The cost-effectiveness of hiring Indian developers is the key benefit. According to a survey, hiring Indian developers reduces IT outsourcing costs by 20% to 30%. Bangalore, India's most costly IT city, is 140 percent less expensive than California in terms of living costs. The main reason behind this reduced cost is due to various factors like Infrastructure, regional differences, experience, and specialization. On average, an Indian developer charges as little as $19 – $50 per hour. This would save $100/hr from your developer cost.
3. Skills backed by experiences
Indians are well-educated, trained on a plethora of technologies, and are graduates from renowned IT universities. Hiring Indian developers who are well versed on sought-after IT skills deliver exceptional results & are found to be easily adaptable per requirements. These technological experts are evident and obvious, making them the finest developers in the marketplace. Businesses look to increase productivity with remarkable perfection without burning a hole in their pocket. Nearly 40% of Indian developers improve their technical expertise to develop their standards towards new technologies in the same sector or other fields, indicating they are constantly upskilling themselves and are ambitious. With well-versed skills, and exploring the International markets they are widely experienced and can assist getting a job done quickly.
4. Diverse Talent Reservoir
India tops second in the world population, with a huge youth population, India is well known for providing numerous talents. India delivers 3.1 million talents every year across the globe and holds the top position in the list of outsourcing companies. Indians are experts in developing Saas, Mobile application, Artificial Intelligence, Data Analytics, etc. When looking to hire developers for multiple services and find it challenging to hire specialized experts try outsourcing. India has a diverse pool of programmers specialized in the latest technologies such as Machine Learning, IoT, Artificial Intelligence, Blockchain, CyberSecurity, etc. All the developers are well trained and Indian developers are transparent at their work they never mention any hidden charges for the clients. Transparency and integrity are the most preferred qualities for hiring Indian developers.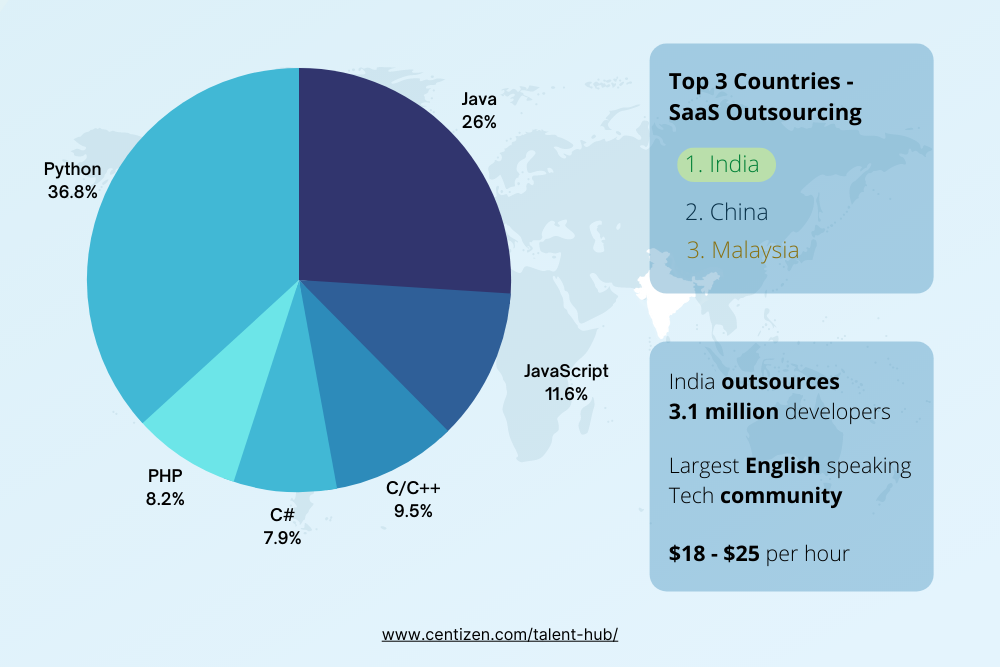 Final Thoughts
Rather than having an in-house team, an outsourcing team is a great choice. There are many reasons to hire a remote workforce from different locations for your project. Among them, India is the biggest game-changer in outsourcing, as Indians are hired by many companies to witness immense growth in productivity and profits. Indian software developers are consistent and hard workers and known to be providing services round the clock. Additionally, the Indian government also implies many tax reductions for foreign companies and startups. This attracts offshore companies towards Indians for offshore hiring. Summing up all the above, we have provided you with the knowledge regarding hiring Indian developers. To stand out in the crowd, our team Centizen Talent Hub is an outsourcing platform that actively recruits talents globally for diverse software companies.
Centizen
A Leading IT Staffing, Custom Software and SaaS Product Development company founded in 2003. We offer a wide range of scalable, innovative IT Staffing and Software Development Solutions.
Contact Us
USA: +1 (971) 420-1700
Canada: +1 (971) 420-1700
India: +91 86107-03503
Email: contact@centizen.com