Java Developers? For Remote Hire! – Here is what you must know

Java is becoming more widely used, even as new programming languages emerge. Java is a growing programming language that combines security and performance in a way that shows no indications of slowing down in the near future. With 35.6 percent of developers preferring Java to construct apps, it has been ranked as the world's third most popular programming language. With technological improvements, there are numerous forthcoming job prospects, particularly developers with a strong understanding of Java are in high demand.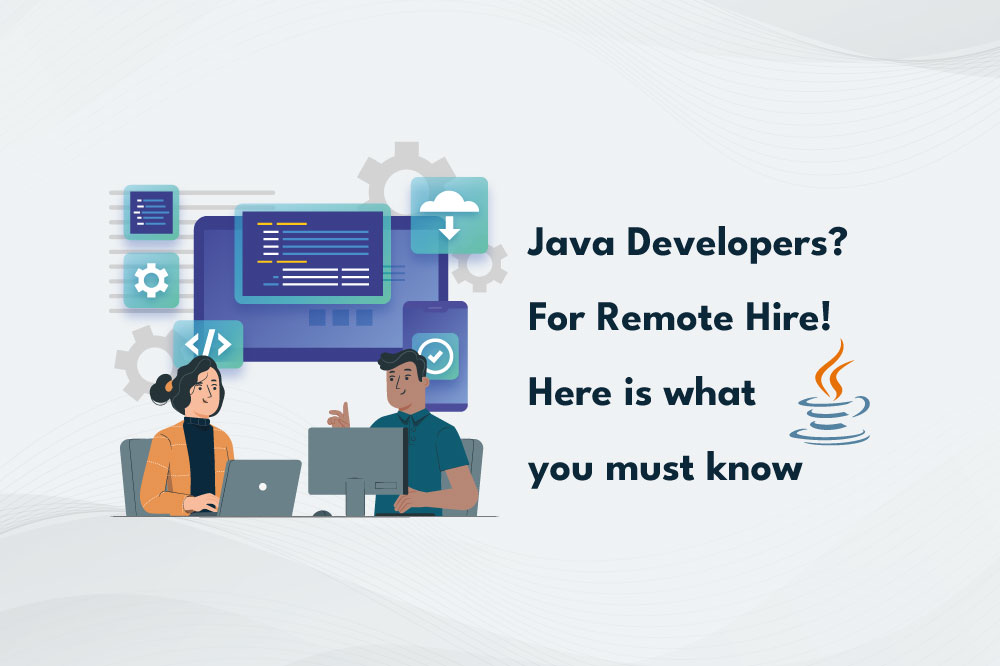 Java is hot and rising.
With everyone looking for the right developer with cutting-edge coding skills, the steady popularity of Java grabs the attention of Tech industries to hire skilled remote Java developers to face the challenge of tech talent shortages. According to the TIOBE Index, Java is one of the most popular programming languages in the world of software developers, and still holds the top position in countries like Germany, China, and South Korea. Many top tech tiers like Google, Instagram, Netflix use Java in their tech stack to develop solutions & products – Mobile Applications, Desktop GUI, responsive web development, Gaming Softwares, and much more to deliver reliable resources.
The Skill that Gives you the Edge
There are numerous resources worldwide that can help you hire remote Java developers but the competition of hiring the BEST TALENTS is cutthroat, time-consuming, and expensive. To save time and money, team up with a reliable offshore recruiting platform like Centizen Talent Hub to recruit the most qualified and experienced IT professionals at a modest price. Centizen Talent Hub is an offshore recruiting firm that actively recruits Indian offshore developers far and wide as they are highly skilled and dedicated. The initial screening process for freshers and experienced personnel varies. However in both cases it is done based on their hands-on experiences and issue handling in various tech stacks to figure out the best fit for your team. The screened developers are pre-vetted based on their soft skills, English Proficiency, and coding skills to deliver the best of the best.
List of Java Developer Salary in the World
The average salary of a Java Developer depends upon the location of hiring and the experience of the developers.
Depending on the area of Location,
In the United States, the salary is $96,145/year, whereas the range can vary between $81,380- $108,420, depending on the qualifications and experience. In Denmark, the salary is around $76,080/year. In Norway, the salary is $61,913.
In Germany, the average salary costs $49,041 and can range to a maximum of $55,143/year. In the Netherlands, the average salary paid is $46,173.
Depending on the Experience,
| | | | |
| --- | --- | --- | --- |
| Location | Junior Level Developer | Middle level Developer | Senior Developer |
| The UK | $47,373 | $59,683 | $67,343 |
| Germany | $56,720 | $63,792 | $68,513 |
| Canada | $50,982 | $59,813 | $62,373 |
| Australia | $51,663 | $64,913 | $72,723 |
| Average Salary | $37,385 – $89,621 | $48,643 – $102,307 | $125,003 – $119,427 |
Cost of Hiring Java developers
Hiring Java Developers in the USA costs $96,225, in the UK businesses have to pay around $60,440, whereas in Germany and Netherlands developers are paid an average salary of $79,895, and $79,250 respectively inclusive of taxes.
Hiring an Indian Java Developer with Centizen Talent Club will cost around $5,838- $17,893. India is abundant with young talents who are experts in various fields backed by knowledge in Science and mathematics. With the help of Centizen Talent Hub, many Indian offshore developers have been placed with high profile clients and most are still employed for 5+ years.
According to Payscale, the Indian Java Developers hiring costs are listed below
| | | |
| --- | --- | --- |
| Role | Salary(per year) | Experience |
| Junior-Level | $5,838 | 1 – 3years |
| Mid-Level | $11,772 | 6 – 15years |
| Senior-Level | $17,893 | 10 – 20years |
Why does Centizen hire Indian Java Developers?
Centizen prefers to hire remote Indian Java Developers, as India is the largest IT outsourcing destination with more than 67% of the global market. The Compound Annual growth rate of India rises to 11.37% with a tremendous increase in revenue. Corresponding to the stupendous growth of India in the field of IT, companies of all sizes worldwide prefer to hire Indian remote developers due to its Competitive pricing, outstanding skills of high-quality developers. As a matter of fact, India is rich in workforce resources with a pool of talents in the area of science and technology. India has been one of the largest suppliers of Java Developers by volume which has around 700,000 Java Developers.
Conclusion
Considering Java is an open source technology, it promotes the values of giving back to the community. It's also gaining traction in cutting-edge technologies like the Internet of Things (IoT) and cloud computing. Compared to the default AWT (Abstract Window Toolkit) and Swing libraries, Java aids in the creation of better GUI (Graphical User Interface) systems. Organizations are moving to Java for these reasons. Hire java developers who are well-versed in the fundamentals to design smart and complex applications in critical situations to get started with Java. Centizen hires developers from India, the top remote employment location, because they are one-of-a-kind among competitors, possessing vast talents and skills. You may hire qualified Java developers from Centizen to create platform-independent, scalable, secure, and high-quality apps.
We know you've heard this all before, but Java keeps coming back. This is because you keep making the best ideas and our hires write the best code and it's a win-win for everyone! Get started with Centizen Talent Hub