Between Silicon Valley and India – Where to hire sustainable talents
Silicon Valley is home to fortune 500 companies like Google, Apple, and Facebook. The average software developer salary in Silicon Valley ranges between $85,948 and $174,459. According to a recent survey, a software engineer working in a Silicon Valley startup can earn an annual salary between $70,000 and $112,800 per year. The full cost of doing business in Silicon Valley covers office rental, shares, taxes and non-financial benefits.
Tech giants compete with each other to hire the best of the best. To avoid this competition, most tech companies and start ups opt to hire developers overseas to cut costs on office rent, expert fees, allowances among others. This blog will guide you through the salaries paid to developers in the silicon valley and how companies can cut costs by hiring developers in destinations like India.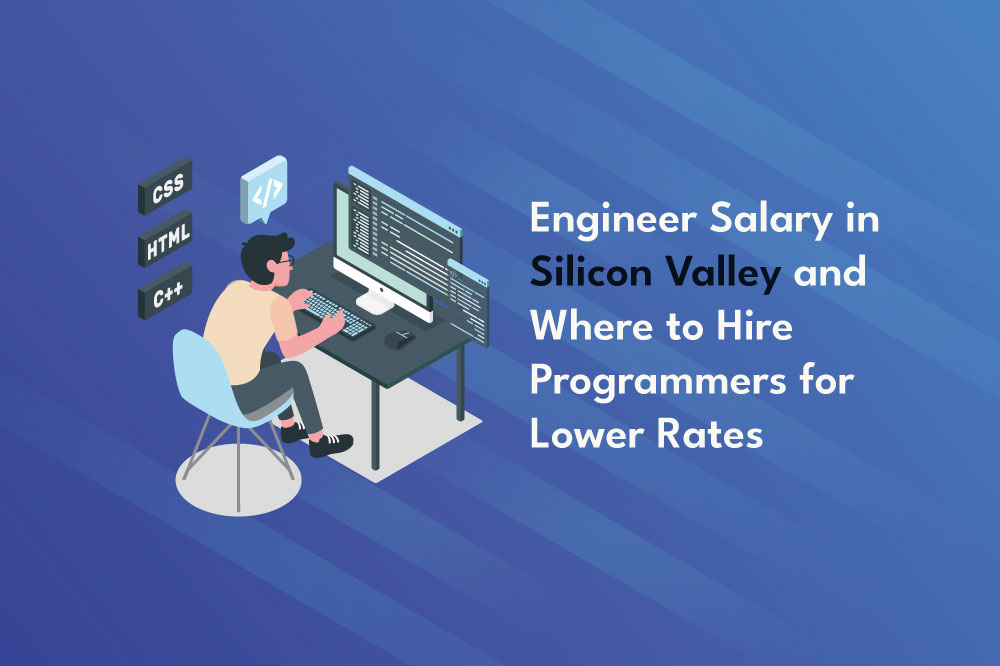 Average Engineer Salary in Silicon Valley
A software engineer earns an average salary in silicon valley ranging between $89,000 and $154,000 (according to PayScale).
Less than 1 year – $110,059
1-2 years – $113,074
6-9 years – $129,334
More than 10 years – $148,173
City-wise Average Programmer Salary in Silicon Valley
The average engineer salary in Silicon Valley ranges between $98,025 and $200,024 per year(indeed)
| | | | |
| --- | --- | --- | --- |
| City | Junior software engineer (1-2 years) | Mid-level developer (6-9 years) | Senior coders (>10 years) |
| Palo Alto | $152,643 | $174,592 | $200,024 |
| San Francisco | $135,324 | $154,783 | $177,329 |
| Mountain View | $129,932 | $148,615 | $170,263 |
| Sunnyvale | $124,282 | $142,154 | $162,860 |
| San Jose | $121,759 | $139,267 | $159,553 |
| Santa Clara | $120,351 | $137,644 | $157,693 |
| Los Angeles | $106,560 | $121,883 | $139,637 |
| Irvine | $101,050 | $115,580 | $132,416 |
| San Diego | $98,025 | $112,120 | $128,452 |
Cities that offer the Highest Average Engineer Salary in Silicon Valley (Indeed)?
Palo Alto,CA – $158,356
San Francisco, CA – $141,346
Mountain View, CA – $135, 950
Sunnyvale, CA – $131,881
San Jose,CA – $128,158
Santa Clara,CA – $127,026
Los Angeles, CA – $111,380
Irvine, CA – $105,246
Why Should Companies Opt to Hire Engineers Outside Silicon Valley ?
Software development is one of the fastest-growing careers that has opened up opportunities such as remote hiring, remote work, freelancing and many other agile practises. Businesses can cut down their operational cost, increase their gross profit, performance and competitive edge by leveraging remote team employment.
Offshore developers can be hired through Freelance portals, outsourcing firms, Remote hiring platforms however, each has its own pros and cons.
In addition to choosing the type of remote developers, it is also important to choose profiles that fit your requirements. Choosing the most suitable country will provide an edge in terms of cost-effectiveness and work effectively despite time zone differences.
Why hire remote developers from India?
India is the second-largest English-speaking country in the world, which makes it easier to collaborate with the Western employers looking to outsource. Mathematics and Science give them added weightage to this line of work. Per the research from Gild, Indian developers scored 11% more than their US counterparts on maths and logic assessments. The average annual salary for Indian software developers ranges from $11,139 and $38,000 as opposed to silicon valley where salary ranges from $85,948 and $174,459.
Why Choose Centizen to Build Your Remote Team?
Centizen Talent Hub with 5+ years experience, screens and helps you hire best talents from India. We help find candidates that are the best match for your company. Outsourcing the recruitment process to our experts will save your precious time and money.
Centizen makes it easier for you to bring on pre-vetted talents ready to work independently. Our sourcing & hiring team will help you find the best technical and culture fit.
Our hiring process is cost-effective, secure, provides continuous support and is hassle-free.Centizen also provides flexibility on ending the talent's assignment within a month's notice if the project ends before the anticipated time. Apart from providing access to an infinite pool of talents, we also provide 24×7 continuous support on the assignments handled by our candidates.