Tips for Building Remote Teams Efficiently
As more and more businesses begin to work remotely, the way people and the business should work is shaped by technological experiences. Building remote teams for your brand allows you to hire top-tier developers who can work for you from anywhere. Data shows that 80% of the workforce feel less stress and prefer to work remotely than in-house. This means that remote teams permit you to find talents for a productive approach. Here are five best practices to consider before building remote teams for your organization.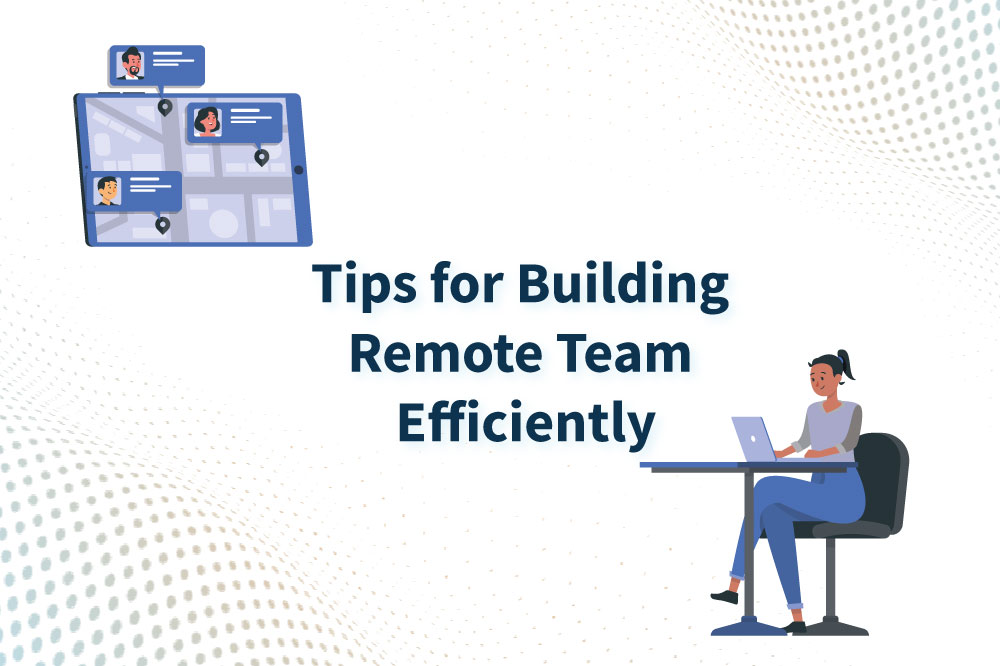 Rules for Building Remote Teams
1. Fix the remote team's structure
Each company has its own way of building remote teams, before recruiting you have to make sure you and your team are on the same page and that your teams' understand their roles, responsibilities & have defined deadlines. You have to decide if the entire team will work remotely or you need in-house management? Do you want to hire from the same location or open to include a diverse team? Will the teamwork remotely every day or spend a few days at the office? Later choose the best structure that suits your organization. While building remote teams and their structure, prepare contingency plans and a risk management strategy to deal with further catastrophic consequences.
2. Take some time with Recruitment
Studies show that building remote teams has tremendous growth in the productivity of an organization. The profitability and productivity are highly based on employee ethics, skills, discipline, culture, etc. Take more time in assessing the candidate. Hire a candidate who has displayed skills like collaboration, communication, time management, organization, accountability, etc. This is because remote employees need to be much more autonomous. With proper scrutiny, you can hire the best candidates for your organization, else you can invest in a remote hiring company to hire the perfect match for your industry.
3. Establish Clear Guidelines and Expectations
Optimizing for maximum productivity needs guidelines including understanding your organization's expectations, workflow, priorities etc. Here are some examples of how to set company objectives and goals for your remote workforce. It includes working hours, tracking performances, task documentation, team goals & target and performance. Make sure the team knows who monitors and manages issues should they arise, how and when to communicate it with their team members. It is not a stretch by far to say the biggest bottleneck in the remote work system is miscommunication. To overcome, building remote teams effectively there use proper tools for communication and collaboration.
4. Tracking and Trust
Tracking a sensitive topic indeed needs to be balanced simultaneously with accountability for longer productivity. Remote workers can feel disconnected from their teams when there is no response or when working on critical projects. This issue can affect the work quality. So while building remote teams it is important to plan for tracking the work progress. To maintain accountability and supervise the performance, use time tracking tools like Hubstaff, Timedoctor, Proofhub to monitor and confirm they are on the right path. Instead examine employees' abilities, motivate them, make them take responsibility for their results, analyze their performance based on the output, set a framework on how you want, and encourage them to move based on the framework.
5. Focus on Mental Wellbeing
Isolation is one of the major downsides of building remote teams. If the remote employee or the organization hasn't been tackled from the start it may end up in serious consequences of the employee's mental health. Taking care of the remote team's mental health is not an individual responsibility, it is a team's responsibility to ensure the mental well-being of all the team members. Here are a few tips to follow and implement: Firstly recognize the issue earlier, ensure an open talk and build open culture. Secondly, support your teammates so that team members come up with new ideas. Create a strong remote work culture that reflects practical steps for mental wellbeing.
Final Thoughts
Research on remote workers reports states that remote employees are 40% more productive than in-office employees. However, without good management principles, you may fail in organization productivity. Thus, businesses are looking for end-end solutions in building remote teams, and Centizen is an offshore platform that helps you to find the quality remote worker for your organization based on the job requirement.