Why hiring developer beyond your borders is a good idea?
The new economic globalization has given rise to developer without borders. The pandemic has redefined how businesses have been pushed to operate from home offices which were once considered less than productive. Is a remote work or  hiring beyond your borders worth it? Allow us to state our findings and you can see what works best for you.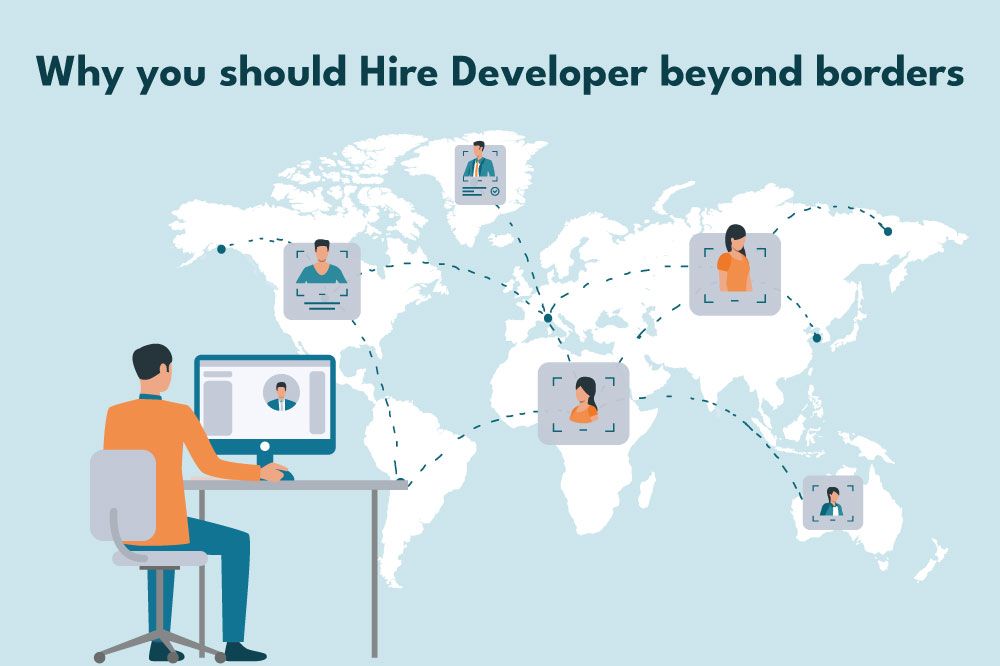 Why would Companies opt to Hire DeveloperBeyond Borders? Here is why:
1. An all-inclusive business model
Millennials and GenZs prefer a more flexible and culture-rich environment to work in rather than chasing the conventional 9 to 5 office jobs. The borderless workforce has quickly become an ideal amongst young adults who dream of working and exploring without being restricted to location or time. It has created a new platform for businesses and HRs to acquire the world's top young and dynamic candidates for their team. This opens opportunities and resources rather than competing with a limited pool of candidates. Hiring remote workers requires a proper screening process. Centizen Talent Hub follows standardized procedures to hire indispensable developer, who add value to the team & organization. We custom design the whole hiring process according to the expectations of hiring managers and the challenges faced by the candidates.
2. Alleviate Legal Restrictions & Visa Handling
A Business faces a lot of restrictions particularly those with onsite opportunities. From Visa processing to adhering to the changing legal policies, transferring or promoting employees between offices at different locations is not easy. Bringing developers into the United States involves complicated procedures. For example, while H1-B visas are limited and based on circumstances, the new employer is required to submit an H-1B visa transfer petition with the USCIS. Similarly, an L-1 visa is a non-immigrant visa that allows companies operating both in the U.S. and abroad to transfer certain classes of employees from foreign branches to the U.S. for up to seven years. Borderless developer acquisition overcomes all these restrictions since it frees the recruiting managers from all kinds of complex visa-sponsorship issues and paperwork.
3. How the pandemic accelerated remote hiring
Companies were hiring remote developers beyond borders way before the 2019 pandemic. But as the world came to a pause, working from anywhere (WFA) became an inevitable reality and work from homes (WFH) became the new norm. Businesses started looking forward to recruiting borderless developers from places they hadn't considered before. For the IT and tech sectors, experts with experiences and sought-after skills in the top domains were needed more than ever. Borderless recruitment has become an opportunity to solve two common issues, i) finding new & rare developers, ii) candidates with new perspectives. Most businesses have resigned to Work-From-Home during the pandemic. This shift demanded employees to adjust at a faster than anticipated pace adjusting to the challenges while creating new opportunities for working remotely. Recruiters no longer need to be skeptical about hiring a borderless developer.
4. Challenges of outsourcing agencies and freelancers
Outsourcing allows firms to complete short-term and large-scale projects that require specific developers. When your business is young and blooming, outsourcing basic responsibilities like marketing and SEO services can save time and resources while you focus more on development & management to strengthen your roots. But in the long run, it is difficult to expect your agency members to be on the same page as you. Similarly, Freelancers work and get paid for a task assigned to them. This facilitates higher autonomy but the relationship between them and the company is short-termed. This means they do not take full accountability for the job. This is where hiring a remote developer comes in handy. Hiring a developer beyond borders will help a business have a full-time employee who works with utmost dedication towards the project and the company he is working for without compromising autonomy.
5. Balancing the supply Vs demand gap
A new Korn Ferry study states that by 2030, the demand for skilled workers will outstrip supply. This may result in a developer shortage of more than 85.2 million people. Left unchecked, the financial impact of this developer shortage could reach $8.452 trillion in unrealized annual revenue by 2030. This suggests it is high time businesses tap highly qualified developers from countries that have a near-infinite reservoir of developers ready to be hired. This is where Centizen's Talent Hub would come to your rescue. Businesses need not invest time in screening hundreds of resumes. They can rely on our services to provide access to a curated pool of pre-vetted and qualified developers.
6. Scrutinizing the best fit as per business needs
When businesses need a senior technical developer with highly sought-after qualifications, expertise and high proficiency, they need not limit themselves to local developers. They can instead look for borderless developers to meet their business requirements. With all the technological advances, there are quite a lot of tools available to make work seamless across the borders no matter where the employees are located. Also, there must be a well-defined onboarding process that includes tasks and activities to engage and prepare new hires for their transition to their new roles.
7. Better Developers and low cost
The United States is the world's top paying country, with an average yearly pay of $95,744 for a software developer. The IT employees in developing countries earn 3-5 times less. When businesses in developed countries hire borderless developers, they can reduce their operational costs to a great extent. Employers can get access to highly qualified professionals at a much lower cost and the developer pool gets to be a part of global companies and upskill themselves to match with the growing technology.
Final Thoughts
With Work-From-Home culture gaining momentum and with additional benefits such as cost-effectiveness, diversity in the workplace, newer perspectives, and expert developers. A borderless developer strategy is worth considering. Borderless hiring helps businesses build a diverse workforce that has a global perspective towards business. Employers can choose the best fit from a vast developer pool. Finding candidates with the right culture fit, fostering employee relationships and team building skills to name a few. However, hiring experts like Centizen's Talent Hub can get as close to "borderless" as possible.