Things to consider when hiring remote INDIAN DEVELOPERS
Recently, IT companies are flourishing tremendously to compete and succeed among the competitors for their top-line growth. The Korn ferry research implies that by 2030, the global workforce would face a shortage of skilled professionals. To balance the developer shortage remote developers are hired. Hiring Remote developers is a means of sustainable growth that delivers better employee retention, performance and cuts short an organization's expenses. Before you hire remote teams, you must understand the factors that could hinder from their native language, time zone differences, payscale range, contracts, taxations if any etc.,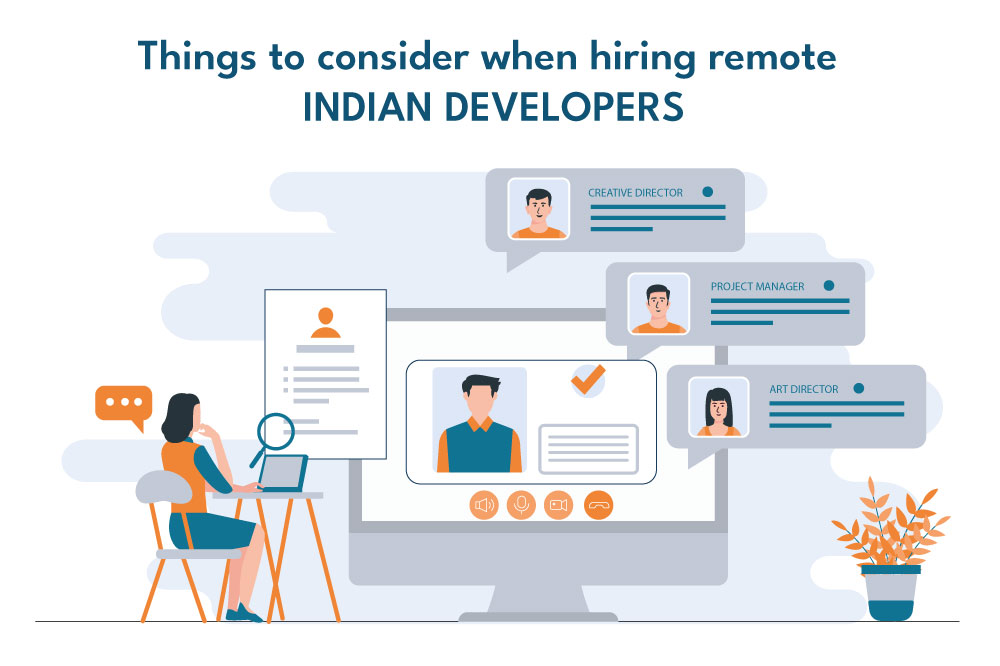 Why are Indian Remote developers in Demand?
India is one of the fastest-growing top Offshore hubs that provide highly-skilled developers for impeccable growth. The steep difference between the pay scale of Indian developers as opposed to their counterparts in other countries. Regardless of surplus developers, the time difference paves way for the company's development around the clock.
Areas to be taken care of while hiring Indian Remote developers
1. Hire determined remote developers
Indian developers offer affordable services and multiple developer teams, make sure you do not compromise the quality by bargaining their service charges. Hire driven developers so that you can deliver them before the deadline. Hiring a professional Indian remote developer process can be competitive, but the right developer delivers a seamless experience with guaranteed results.
2. Keep an eye on Skills and Productivity
To recruit skilled remote developers,
Focus on the candidate's technical skills and problem-solving attitude related to your job description. It helps hire the perfect match based on your job requirement.
For more Productivity,
Choose remote developers who are good at handling management tools like Dropbox, G-suite. Hire ones who have basic infrastructure and network facilities to stay connected with the client anytime at anywhere. Choose Indian remote developers with good on-time reporting ethics and have a higher probability of being more productive.

3. Examine their Differences and Experience
India is a diverse country with distinct cultures, language and cultural approaches. But, on the other hand, the time difference and experiences also play a major role in hiring Indian remote developers. It's better to have an outlook about their culture and time differences. A clear-cut list of their working hours, holidays, time frames, which helps in maintaining a good balance between you and the developer. To retain skilled remote developers for a long time, maintain a review list of their experience, scalability, flexibility, attitude, and the potential to pursue the career. Conversely, offshore firms should maintain a strong remote culture through proper communication via tools like Slack, Skype, Troop, etc. This helps in retaining developers for a log-time at an ease.
4.Have the least priority for freelancers
Choosing freelancers might sound cost-effective, but replacing ṭhem with an offshore remote development team is a wise option. Hiring remote employees with suitable experience and skills can help you achieve better results. The main reason behind recruiting remote developers rather than freelancers is due to having many tie-ups at a single time. They can't be consistent and committed to one project for a long time.
5. Abide by the Terms and Policies
The offshore recruitment terms and the laws regulating the Indian freelance & remote workers community are easy to be implemented causing less friction, and is one of the major reasons for hiring Indian remote developers.
For example:
Applicants who are willing to recruit remote developers must deposit a bank guarantee of Rs.50 lakhs. For Registration, the Government of India prescribes a fee of Rs.25,000, and the registration is valid for about 5 years. So, abiding by the terms and policies of the Government of India for each hiring post will avoid legal conflicts later.

Get started with Centizen Talent Hub
Centizen Talent hub is an offshore recruitment firm that recruits remote or dedicated developers of your choice, from the international pool of developers. Recruiters are trained to evaluate, and scrutinized to pick out the best developers. Centizen Talent Hub is currently working on both hiring Indian remote developers, and onsite developers for increased productivity, innovative solutions and cost-effectiveness.
Final Thoughts
India has been highly recommended as a one-stop destination for hiring remote developers. The reason behind the competition is, the average salary difference is 2.5 times lesser than the other countries. A report says 50% of Indians work under an average yearly salary of $10,000. Hence hiring an Indian remote developer is not only cost-effective but ensures quality output. So, to compete, and level up in the competitive IT world, start investing in remote developers.