Helping an American retailer save $$$ in hiring SAP/ABAP Developers.
With the onset of the pandemic, remote work has become the only option for most businesses. Companies are looking to expand their inhouse teams with remote hires to scale their business while cutting costs on business operations.
One of our clients, a leading US based multinational retailer, was in dire need of a team of SAP/ABAP developers who could work remotely. Centizen was able to put together a team of offshore developers in a limited timeframe.
The client was looking for local developers but was faced with countless challenges. There was a shortage of candidates as most of the top candidates were already employed by other IT firms and the competition is very high. There are also the expenses that come with hiring a new team, there may be costs involved like renting office spaces, salaries based on proficiency, installing amenities like computers, internet connections, printers, etc. and hidden costs that include payroll taxes, paid leaves, health insurance, vacations, sick leaves, and pension contributions. Moreover, they had to spend more time and money on senior specialists and recruiters for handling the recruitment & onboarding process. Skill assessments and screening should also be considered. That is when they decided to engage help from a third-party hiring partner like Centizen to make the hiring process quick and hassle-free.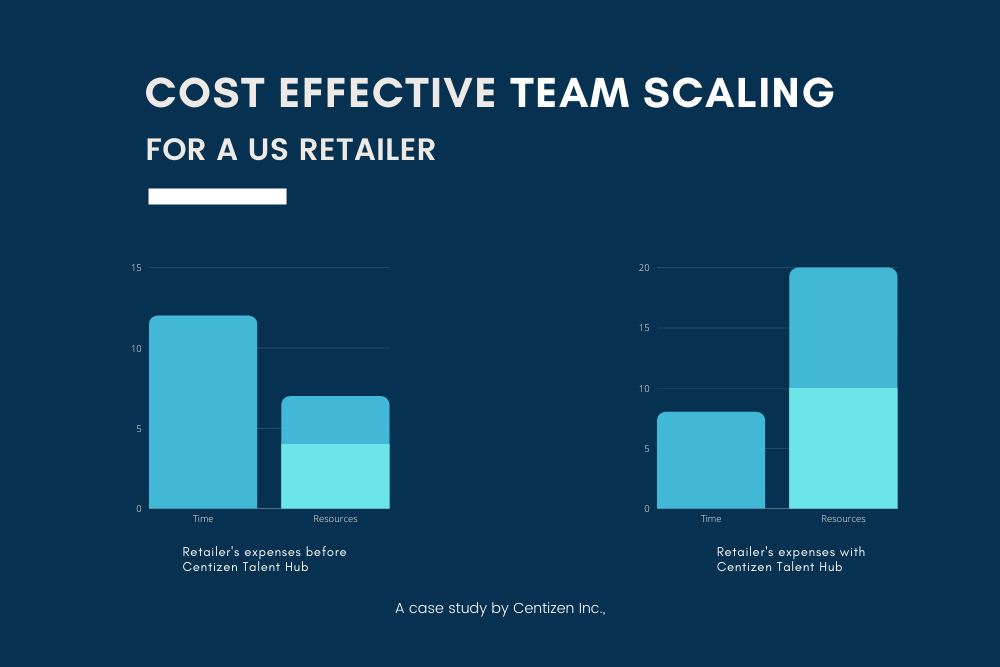 Centizen Talent Hub understood the requirement and stepped in and pinpointed the exact skills and expertise to expect from the new hires. Our sourcing and hiring team collaborated to find the best fit and brought on vetted engineers ready to work independently. The initial interviews and evaluation processes were taken care of by our team following which our clients interviewed our pre-vetted list of candidates which saved them time and resources.
Our stakeholders found it effortless to identify developers across the geography with Centizen's Talent acquisition team.

Centizen took care of the onboarding process and the post-hiring responsibilities. Our responsibility did not end there. We had back up employees in case any of the hires couldn't continue to be a part of the team and took care of their payroll, leaves, work schedules, etc.

Thus we at Centizen helped our client to hire five full-time SAP ABAP developers in less than 4 weeks. The client saved a whopping $350,000 while promoting workplace diversity.
An inclusive team with rich experience & wider perspective.

Access to a wide pool of resources.

Expert project handling.