Remote Hiring is redefining hiring, industry post-pandemic
The COVID-19 epidemic has transformed recruiting, by completely altering the global workforce. With digital talent acquisitions, the interview processes have gone virtual, and employees prefer working remotely. Over 10 million people around the globe opt to work under their roof and the pandemic has reinstated this in a more clear fashion proving its feasibility. This article digs more into the remote workforce, its pros and cons, and the way it is changing a steep difference in the hiring industry. After the pandemic, industries are getting back to a new normal with a question: should they once again open their doors? The epidemic has permanently altered the global workforce; now, every employee prefers to work from home. The hiring industry is now recruiting remote workers by screening and onboarding candidates virtually.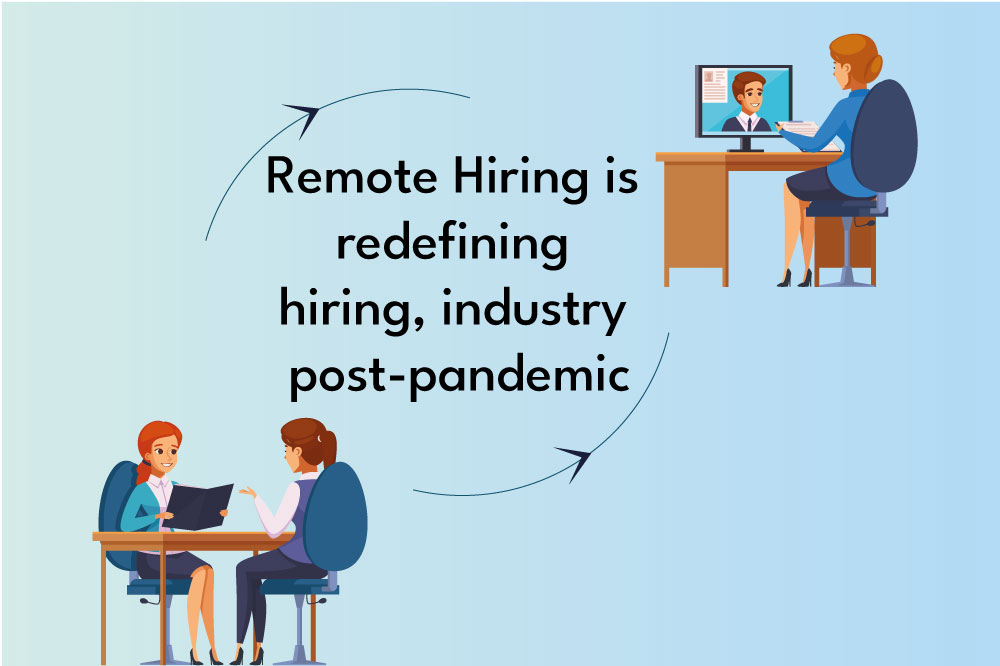 How is the Hiring Industry changing conventional hiring with the novel Remote Hiring?
Interviewing and Onboarding
There are some guidelines to follow while conducting remote hiring: Talk about company norms and how remote work is handled, Create a standardized system and schedule interviews, Conduct free from destructive virtual interviews, Email interview call letters and virtual meet link, Treat virtual meetings as same as an in-person meeting.
Branding and Advertising
In traditional recruitment, hiring talents is done by advertising through local Job boards, fliers and referrals. But as opposed to conventional hiring, remote hiring focuses on assessing the global talent pool. Employer's brand name and reputation has a direct impact on attracting the top candidates. Branding however attracts more customers not so much as employees. The brand also shows the industry culture that might be favored by experts to focus on when you are open for recruitment. When it comes to online advertising, the hiring industry should publish a job post with a remote specific job, not a local specific location. If you haven't done this properly you may miss out on great employees.
Candidate Assessment
With the advancement of digitalization, the hiring industry recruits candidates with help of collaboration tools like Zoom, Skype, Google meet and more. For evaluation, online assessments and computer-aided examinations are done to minimize time and effort. With these advancements in technology, recruiters find it simpler to communicate, evaluate and hire top talents across the globe. From screening to documentation, signature, onboarding everything is done through virtual platforms.
Time management and Skill Testing
In the world of remote work, supervising remote teams is no easy feat. The hiring industry validates a candidate with pre-screening, skill-testing such as problem-solving. Time management is done to evaluate their level of excellence to pursue a career as a remote worker. In profile testing, companies will look at candidates' profile history to predict their performance, work style, social cohesion level to decide whether to move with the hiring process or not. To be more effective in the recruitment process, have a keen observation of their skills and personality for better productivity.
Communication
The active environment and face-to-face meetings in the traditional mode lets employers clearly understand the concept, goals and objectives of the company. So that the candidate is aware of company norms, team aspects and work culture. When it comes to remote hiring, there may be a lack of communication which leads to misunderstandings. To compensate for the absence, the hiring industry prefers collaboration and communication tools to coordinate the hiring team, the employers and the candidates are all on the same wavelength and time. Email is the most used form of communication in the remote hiring process. But to make it more realistic, voice and face-time applications like Slack, Zoom, Skype, Basecamp, Jira, etc. are developed to eliminate the thought of separation.

Onboarding
SFor employers, this is a valuable time to build strong remote culture through sharing companies' attitudes, methods, tools, and the employee's role in the new environment. When the technology catches up with the onboarding process, paper- works are made easy with e-signature services.
Final Thoughts
Hiring lies at the core of any business, but after the pandemic situation, industries practice themselves to hire candidates globally with remote work options. The right technology makes the hiring industry revamp a streamlined remote recruiting process. There are many challenges that occur while hiring a candidate through virtual platforms to eliminate these hurdles, Centizen talent hub, hires talented developers to navigate any challenges and opportunities along the way.